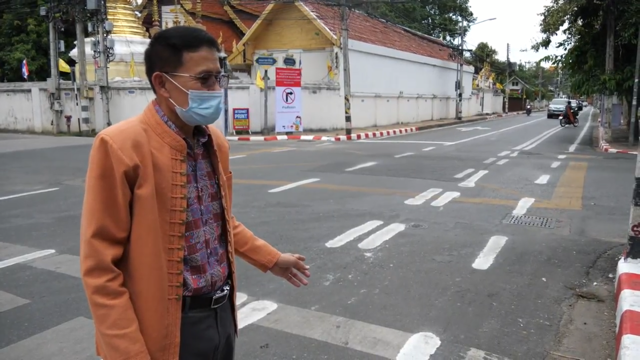 The traffic police have been experimenting over the past few days with turning Ratchadamnoen (walking street) into a one way road from Tha Pae gate to Wat Phra Singh. However, there has been much outcry from the public who have found it confusing and difficult to navigate.
The new system also provides for a cycling lane as well as a new parking system.
According to feedback from the public, the road markings are not clear and badly applied, causing confusion and many vehicles have to slow down as they attempt to understand the new regulations.
As to the bicycle lane, skateboarders have begun using them, which has also upset some people.
A deputy mayor has come out to explain that this is the first of a new project which the municipality hopes to launch post-covid, to turn the old city into a more walking-friendly zone. He asks for the public's patience, explaining that this experiment will continue until the end of the month, at which time there will be a full evaluation.
As to the low standards of road markings, he explained that it was only temporary, therefore not the best material was used. Thermoplastic is what is normally used in road markings, but these ones are temporary and should fade in two months.
He went on to say that he welcomed public feedback.