CityNews – On 20th May, 7.45 a.m. PM Yingluck Shinawatra ate breakfast with representatives and leaders attending The 2nd Asia – Pacific Water Summit at Chiang Mai International Convention and Exhibition Center. After they ate the representatives and leaders were taken to the water exhibitions and conference.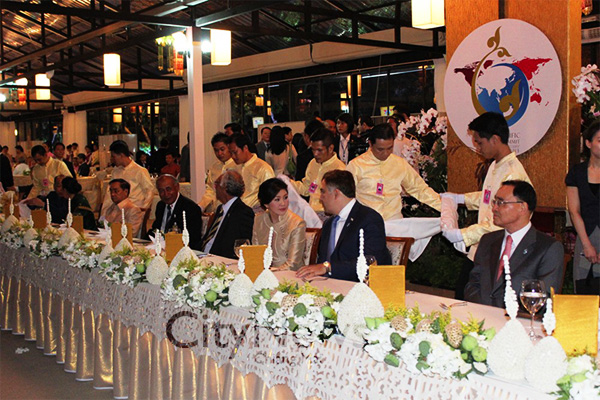 At 9 a.m. the conference started with a speech by Plodprasop Suraswadi, the deputy Prime Minister and president of the Office of the National Water and Flood Management Policy. He gave an introduction and then a summary of the academic conference to PM Yingluck Shinawatra who would later speak about 'Disaster and Preparation: Process and Mission of Thailand towards Water and Flood Management for the Future' (rough translation).
There were more speeches later by representatives such as the president of the United Nations General Assembly, Vuk Jeremi?. Later came speeches from Yoshiro Mori, the president of Asia – Pacific Water Forum and Noeleen Iteyz, the Under-Secretary-General of the United Nations and Executive Secretary.
Without water there is no life was a phrase heard often at the conference. Iteyz's moving speech emphasized the fact that people all over Asia are still living without clean water. "By 2015 600 million people in the Asia-Pacific Region will still be lacking cleaning drinking water," Iteyz, adding that 1.7 billion people will be without modern sanitization, and 100 million people still practice open defecation.
"We are totally off-track," she said, and it should be the challenge to all leaders to "improve human dignity and sanitation, and make sure every person in the region has access to clean water and a sustainable healthy life."
Climate change was also discussed and the fact that 90% of water related disasters were now linked to climate change. It was the mission she added of every country to improve policies and strategies on disaster prevention. On water pollution she expressed that there had to be improvement with law enforcement and regulations. "Polluters must pay," she said.
Her sentiments were echoed by Takehiko Nakao, the President of Asia Development Bank (ADB) said that 80% of the region's rivers were in poor health. "We need sustainable development," he said, adding reusing and recycling water in every country had to be improved, as well as methods in water management, water saving, and flood prevention.
? 07.45 ?. 20 ?.?.56 ? ? ? ?–? ? 2 ? 7 ? ? ? 14 ? 2556 ? ? 09.00 ?. ? ? 2 ? ?.? ? ? ? ? ? ? ? ? ? "? : ?"
?/? ? ? 67 ? Mr.Yoshiro Mori ? APWF ? Ms.Noeleen Iteyz, Under-Secretary-General of the United Nations and Executive Secretary ? ESCAP ? Mr.Takehiko Nakao ? ? ? ? ? ? ? "?" ? ? ? ?.? ? ?