CityNews – Local unrest has continued to grow as pollution levels in Northern Thailand skyrocketed yesterday to a whopping 441 AQI, which is 141 points above the "Hazardous" level of 300. The independent AQI report came from Grace International School here in Chiang Mai, and was screencapped on Fire Reports Chiang Mai's Facebook page yesterday.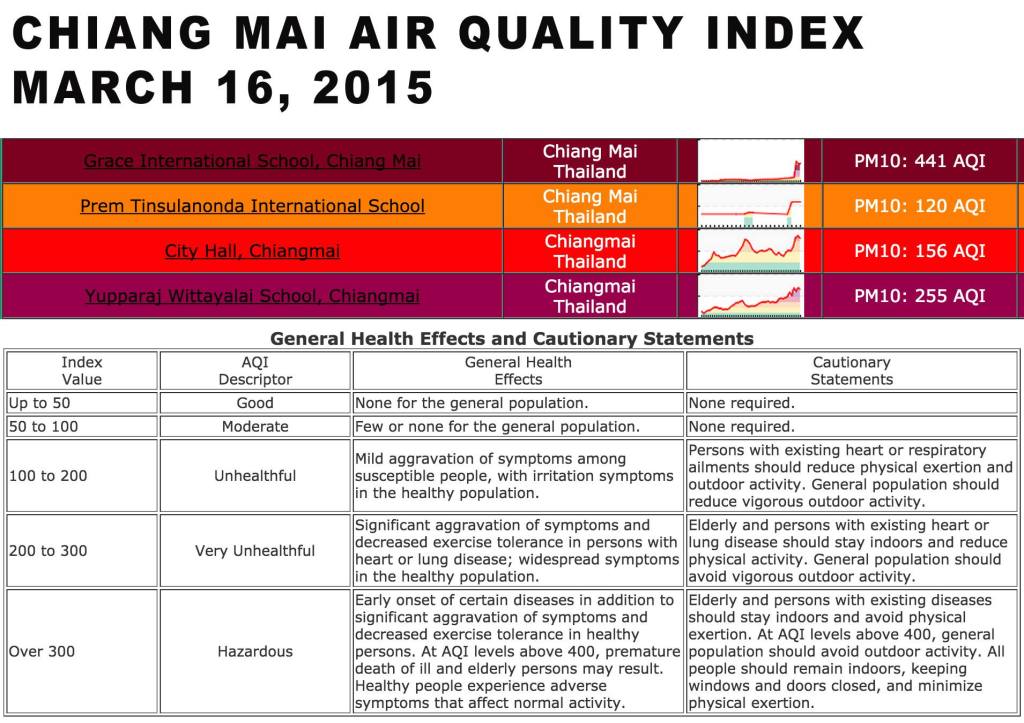 Screencap courtesy of Fire Reports Chiang Mai
As of this morning, March 17, Chiang Mai Provincial Hall measured air pollution at 304 micrograms per cubic meter, or 180 on the air quality index (AQI), which also qualifies as hazardous to all populations. Yupparaj Wittayalai School reports a 230 AQI as of 10am and levels in Chiang Rai are currently at 403 AQI.
Meanwhile, the pollution is having very real effects on daily life in the city. Visibility in Chiang Mai was only 800m yesterday (March 16) and planes were grounded and flights redirected away from Chiang Mai as a result.
Many long-term Chiang Mai residents have told CityNews that this is the worst year for pollution they can ever recall.
Meanwhile, Chiang Mai's Governor Suriya Prasartbandit,as well as the head of TAT, have left the country to attend a flower festival in Canada.
At 300 on the air quality index, known health effects include but are not limited to: early onset of illness and disease, debilitating effects on healthy persons who engage in vigorous physical activity, and even the death of elderly and ill persons. The general populace is advised to remain indoors with windows closed and air conditioning on (HEPA air filters are recommended) and to refrain from physical exertion.
For ongoing AQI measurements in the area, click here.