CityNews – A relatively new ATR-72 turbopop QV-301 plane belonging to Laos Airlines crashed in the Mekong River yesterday, killing 44 passengers and 5 crew members.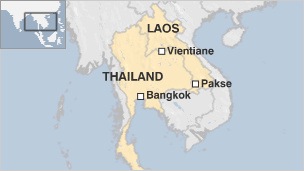 The plane flew out from the capital Vientiane and was headed to Pakse. However at 4:10 pm while preparing to land, just 5 miles from its destination, it crashed into the Mekong.
It is believed that none of the passengers or crew members survived this deadly crash, according to the Lao People's Democratic Republic. Amongst the passengers on board, were seventeen Laos Nationals, three South Koreans, six Australians, seven French, two Vietnamese, five Thais, and one passenger each from China, Taiwan, Canada and Burma. Several disturbing videos were broadcasted on television channels which showed a half submerged plane in the river with a destroyed tail and dead bodies piled up by the muddy banks.
Laos's Ministry of Public Works and Transport has said that the cause of the crash was due to exceptionally bad weather conditions pertaining in Laos at that time. Laos Airlines on their official Facebook page confirmed the crash and conveyed "our condolences to family, friends, colleagues and relatives" of the passengers.
Laos Airlines is a Domestic and International carrier of the communist state and was founded and launched in 1976. Internationally, Laos Airlines flies to Cambodia, China, Singapore, Thailand, Vietnam and South Korea. It possesses a fleet of just 14 planes.
This incident has sparked doubts of safety measures in Laos, especially for tourists. The air traffic in Southern Asian Countries has increased tremendously over the years, however small domestic airlines lack the experience as that of some of the other powerful airlines.
For any information regarding Flight QV 301, please find here below contact information.
Media: 856 20 5555 4333, 856 20 5542 4244 Orlavanh@laoairlines.com
Victim's family and relative 856 21 513 150 – 54
Flight Information 856 21 212 051 -54 reservation@laoairlines.com
ticketing@laoairlines.com