CityNews – A YouTube clip was shared all over Thai social networks recently and shocked many viewers.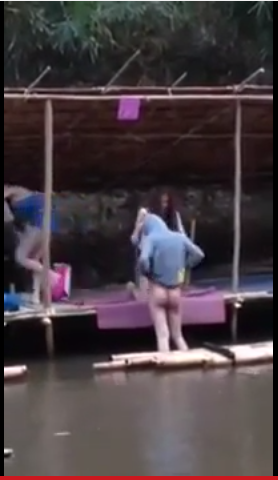 This video titled "?" was taken in Pang Chang, Mae Wang, Chiang Mai, and was posted by Facebook user Jeraphon Phomsan. The user did not specify the date the video was shot. The 32-second clip is of a naked person, believed to be a woman, or a transgender man (The Thai media have mostly reported the person is a transgender man, though the clip in no way confirms the assertion). The person was swimming in Mae Wang River when bamboo rafters took the video. When the person noticed passersby, she immediately put her clothes back on.
Narong Leksombun, Director of Chiang Mai Cultural Office, told reporters that the clip would negatively impact Chiang Mai and Thai tourism. He said he did not care what gender the person was, but said that incidents of nudity should not happen. Narong said that he would work to prevent future public obscenity.
See the YouTube video here (explicit)
Story in Thai and more photos on the Manager and CM108