CityNews – A New Zealander was allegedly drugged and robbed in Pattaya's Walking Street area on 17th December 2013, and later could not recall the name of the prostitute who had committed the crime.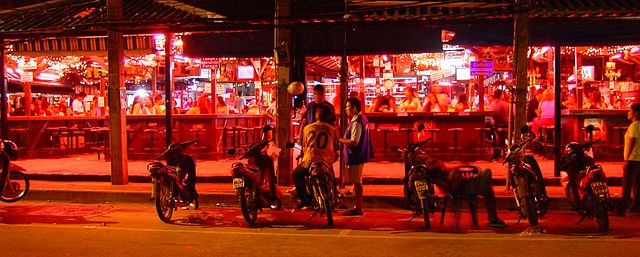 One of the many bars in Pattaya.
The man, Bernard John Griffiths (65), apparently met up with a 'ladyboy' in Pattaya, where they ended up going to a bar together. After the man discovered he couldn't pay for their drinks, he was accompanied by the sex worker to a nearby ATM.
Griffiths later told police that he was unable to withdraw money on his own accord, because he couldn't understand the Thai language on the screen. Rather than directing him to choose the English language option, his "date" had withdrawn 10,000 baht for him, after he had naively told her his pin number.
The pair then made their way to a nightclub ironically called Lucifer Disco, where they danced and had some drinks. He told police he saw the suspect stirring his drink at one point, but she told him it was to "clear the foam". After having a few gulps, he almost immediately passed out in a corner.
He woke up fifteen minutes later to find himself short of a wallet, a visa card, a diamond ring worth 200,000 baht, a gold necklace worth 82,000 baht, and the remainder of the 10,000 baht drawn prior to the mugging.
Police don't have much to work with as Mr Griffiths' details are limited and leads have been futile.