CityNews – Parents of a 9-month-old baby girl that was born with four legs and a myriad of serious medical problems are now calling on the public for help, after they claimed the hospital, the name of which is unknown, was negligent to the mother.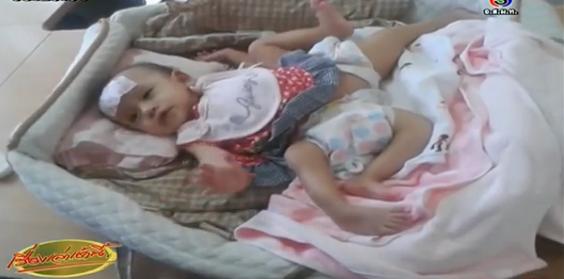 The baby girl, I-tim, was born with four legs, two sets of reproductive organs and several problems with her internal organs. Allegedly, the hospital chose not disclose these issues to the parents during the mother's multiple ultrasounds, when it would have been most likely for the extra organs to be noticed. The first time any of these issues came to light was when the baby was born, and the impairments visually obvious.
The parents have now gone to the Paveena Foundation for Children in a bid to make the hospital take some responsibility for not informing the parents of their daughter's serious condition, and also to appeal to the public to help support them and their daughter through her necessary future surgeries to get rid of the extra limbs and organs.
This is the first case of its kind to be reported in Thailand and only the seventh in the world. The Channel 3 News report on the case can be viewed below.