CityNews – On 13th May, at 7 p.m. Phamuang Task Force in Chiang Rai seized drugs worth millions of dollars.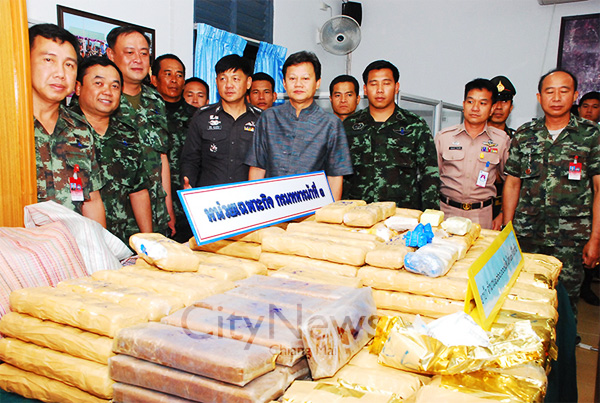 The task force had earlier received a tip-off that the drugs would be moving through the Mai Sai district. The officers saw who they thought were the traffickers and approached them at a rice field behind a Cosmo Petrol Station in Ban Wiang Hom in the Mae Sai district. The men dropped their sacks and ran away, said police.
Inside the sacks 1,660,000 amphetamine pills and 43 kilograms of Ya Ice were found. One pill of yaba is thought to have a street price of anywhere between 100 and 500 baht, while ya ice goes for around 3,000 baht a gram, making this a huge haul of drugs worth millions of dollars. It is believed that the drugs belonged to a group of Lahu men who police believe work for Lieutenant General Yeesay, the head of an underworld Lahu gang. Police believe the gang changed the delivery route from Mae Fah Luang district to Mae Sai district.