CityNews – The manager of the Poonpon Rd branch of the Bank of Ayudhya, Sophon Udomsap, called police last week after the two men, who had been discussing a debt in a 2nd floor room of the bank, began to argue fiercely, and then stared to fight.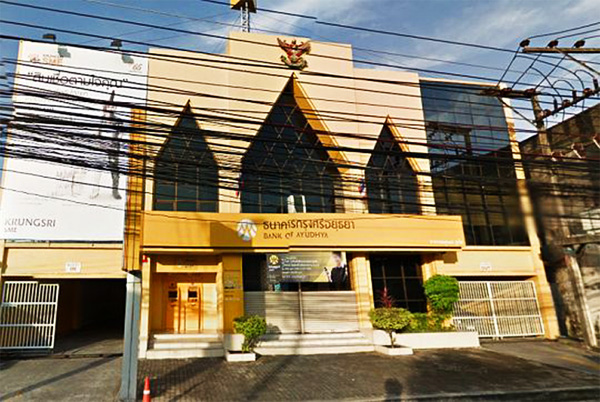 The Ayudhya Bank branch in Poonpon Road where the deadly dispute took place
By the time officers arrived the two were lying in a bloody heap on the floor of the room, dead.
Mr Sopon told police that Ponthakorn Teerabenjakul, 51, the owner of apartment in Thung Thong, had borrowed a large amount of money from Paiboon Weswanich-sanong, 71, putting up his apartment and land, valued at more than B30 million, as security against the loan.
Ponthakorn failed to repay the money so the two agreed to meet in the bank with the manager to discuss how the debt might be repaid. Paiboon brought with him two potential buyers of Ponthakorn's land.
Police, after interviewing the two women buyers who were present at the horror, described the deaths as a murder followed by a suicide.
The women said that Ponthakorn stabbed Paiboon in the throat and slashed his arm, and then turned the knife on himself, stabbing himself seven times in the chest.
The bodies were sent to Vachira Phuket Hospital to await collection by relatives.
Original story here