CityNews – Just off the Super Highway down a small side Soi lies the inconspicuous home of 20 dogs. Crawling out from under rattan charpoys, bushes and wooden tables, running from the adjoining school grounds and sleepily waking from their cement beds, the temple dogs of Wat Nong Phrae Krang come to greet us.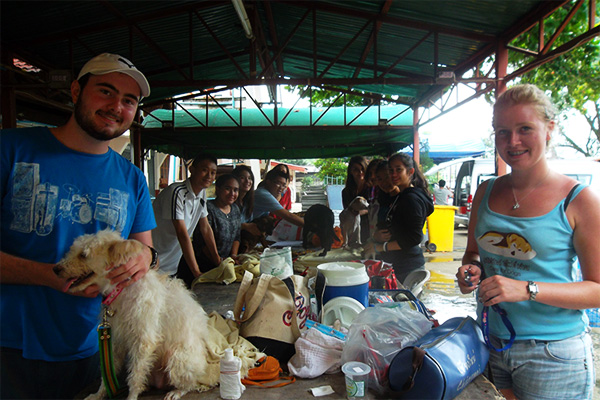 On August 19th the students and teacher coordinator, Dee Fancett, of Nakornpayap International School's Temple Awareness Program (TAP), founder of Prem International School's Hand to Paw Temple Dog Outreach, Joy Huss, and staff from the Care for Dogs Foundation, Khun Chai, came together to witness firsthand the positive impact that they can have on their community and on animals in need.
The three separate litters of puppies, ranging from one to two months old, can now be found running amongst the temple grounds. These 10 new hungry, energetic bodies have added a significant worry for the monks to their already large population of 10 dogs.
A networking of resources has brought these three dog-welfare groups together to find a solution at Wat Nong Phrae Krang and to further educate the students of NIS TAP on how to run a successful community service program. Based on Hand to Paw's years of experience running a student-led temple dog program in 7 temples, Joy was able to provide valuable information on how to organize an effective care-giving day at the temple and vaccinate the puppies and dogs to keep them free of disease and rabies. Care for Dogs was on hand to educate the students and monks on how important it is to spay and neuter animals. The adult, female dogs were collected to have them sterilized, thus preventing future puppies being born at the temple.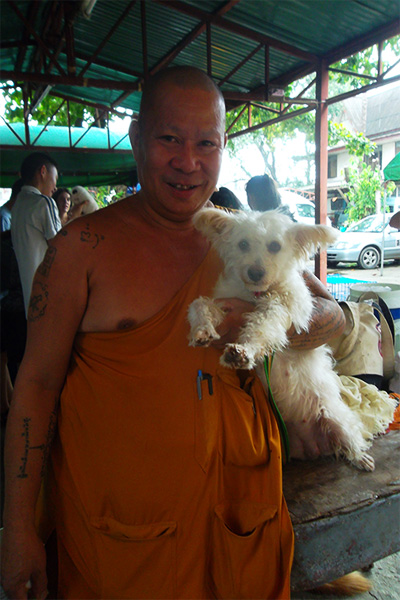 The students of NIS were kept very busy over the course of 2 hours; purchasing and donating much needed dry dog food; bathing, de-worming, de-ticking, cleaning ears, tending wounds and giving lots of kisses and cuddles to the plethora of puppies all under the watchful and curious eyes of the resident monks. Once they have mastered their skills in basic dog care with the puppies they will move on to the adult dogs until every dog at the temple receives the same quality of care throughout the year. Students will visit the temple on a weekly basis to provide care and support to the dogs, assisting the monks to maintain a sustainable population as well as fundraising to pay for supplies, food, sterilizations or other medical necessities. Puppy adoptions will soon be under way with some dogs going off to the Care for Dogs Adoption program and NIS making and distributing posters and flyers with puppy photos and details all in the hopes of finding them safe and loving homes.
Education is first and foremost in bringing change to the lives of temple dogs in our communities. With more and more students wanting to be a part of this change, programs like TAP and Hand to Paw are the successful first steps in making a difference!