CityNews – On Thursday, 15th May, Wanlop Namwongprom, Wat Phra That Doi Suthep Public Relations, invited the presses to look at the dome's construction plan after it was criticised by the public on social media. Many believe the dome will block the view of Phra That Doi Suthep.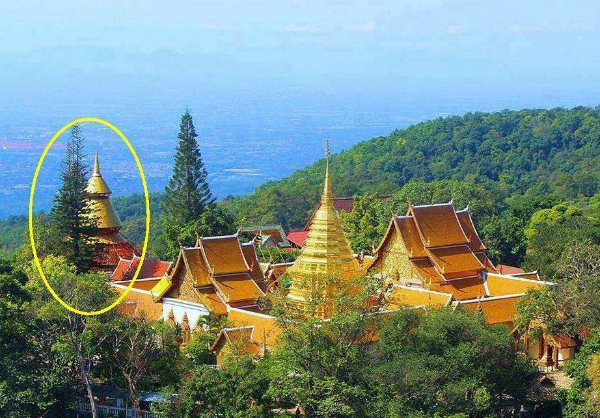 Wanlop told reporters that the budget to build the viewpoint is estimated to be 20 million baht. The pagoda  shaped dome is designed to resemble King Kue Na's crown as a tribute to him for building the temple in 1383. The dome's first floor includes lobby. The second floor has viewpoints along with binoculars and historical exhibitions of Wat Phra That Doi Suthep and Chiang Mai. On the top, the dome is closed to public because it will be a storage place for holy items.
The dome's construction began two years ago and is expected to complete by 2015. The construction purpose is to prepare for ASEAN Economic Community (AEC), to exhibit the history of Phra Tha Doi Suthep and Chiang Mai, and to welcome important people to the country.
The dome looks taller than Phra That Doi Suthep from the city's point of view. Many criticized that this dome is going to block Phra That Doi Suthep. Some said it's disrespectful to the Buddha to build a dome taller than the pagoda that houses his relics. The committee insists that it was not the temple's intention and they plan to lower the height of the dome to ease the public's worries. The temple will not cancel this project because it has invested lots of money into the planning and construction so far.
Doi Suthep's committee also stressed that this building will be structurally sound and able to withstand earthquakes and mudslides.
See more photos on the Manager.