CityNews – The national Disaster Warning Centre (NDWC) has confirmed another 5-magnitude earthquake hit Chaing Rai's Mae Lao district on the evening of Monday 12th May.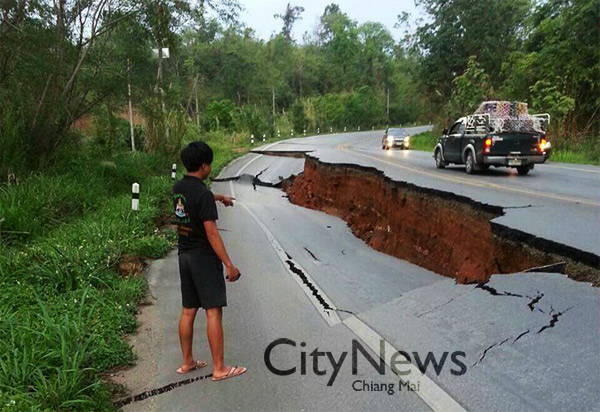 Photo from May 5th Earthquake
The most recent earthquake to hit Chiang Rai's Mae Lao district have been confirmed as a new earthquake, and not and aftershock of the 6.0 earthquake to hit Chiang Rai on May 5.
It has been reported that announcements were not immediately made, as the new earthquake did not significantly affect local residents. The epicentre was at a depth of eight kilometres in tambon Dong Mada of Mae Lao district.
The Meteorological Department's Seismology Bureau has reported that over 750 aftershocks have been detected since the initial May 5 earthquake that struck Chaing Rai. Seven of the quakes ranged from 5.0 to 5.9 on the Richter scale and another 21 between 4.0 and 4.9.
Calls on the government have been made to build temporary shelters for residents living in Dong Mada and the local areas as many people are still living in fear and many remain sleeping outside. Authorities are also being asked for repair money to help with the damage of over 150 local houses.
A four story building in Phan Pittayakom School, Phan, Chiang Rai has been closed off due to safety fears and is awaiting decisions to repair or demolish it.
With thunderstorms becoming more common this time of year people are advised to act quickly to damage and to keep safe. The Engineering Institute of Thailand (EIT) has called on state agencies and people in Phayao, Chiang Rai and Lampang – provinces along the fault line of the recent earthquake – to closely monitor developing situations and to be aware of landslides.