CityNews – In a statement released to CityNews this morning, city officials revealed their plan to install a 10 p.m. curfew in the Old City for visiting tourists beginning next Monday, 7th April. Upon its enactment, the curfew will make any tourist out on the streets after 10 p.m. a fineable offence of up to 1,500 baht, or up to 30 days in jail.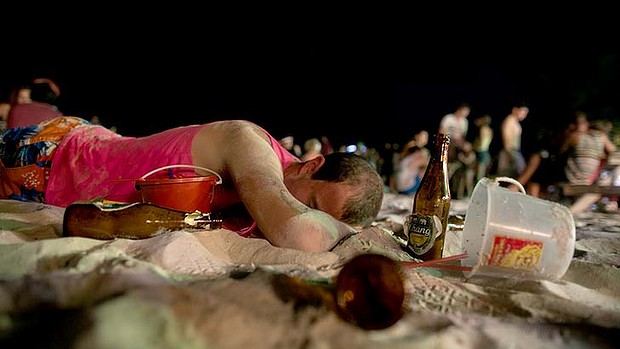 City manager Worasuk Kulalongporn confides that this curfew has been "a long time coming." Though the plan has been in the works for years, Mr. Kulalongporn states that a recent incident at farang hotspot Zoe in Yellow pushed officials to quick action.
According to Mr. Kulalongporn, last Saturday, a tall, muscly blonde tourist (wearing a "Same Same But Different" singlet and multi-coloured elephant pants) got into a tuffle with a local songthaew driver over his desire to charge he and his friends 40 baht each for a ride from Zoe to the Night Bazaar. The tourist insisted that they would pay no more than 20 baht each for the ride and that to charge he and his friends more was racist. When the driver pointed out that it was 3 a.m. and there were no other songthaew available, the tourist threw his empty bottle of Chang at the songthaew's taillight. The songthaew driver drove away and though the tourist was enraged, he was quickly consoled when his friend (a slightly shorter, yet still muscly and still blonde tourist donning a 7-Eleven singlet) brought him a taco from Taco's Bell.
To ensure that no further incidents of this kind occur, a 10 p.m. curfew for tourists will go into affect this evening. When asked how officials will know whether or not an individual is a tourist, Mr. Kulalongporn said local police will be on the lookout for individuals wearing Thai labor uniforms, harem pants, Ray Bans (or Roy Bons) at night, patchwork backpacks, feathers for earrings, flowy tunics, bracelets made of colourful string, swimming trunks, no shoes and or those individuals eating Pad Thai.