CityNews – The Narcotics Control Board seized assets from an alleged drug dealing network in Phrao with a total value of 150 million baht.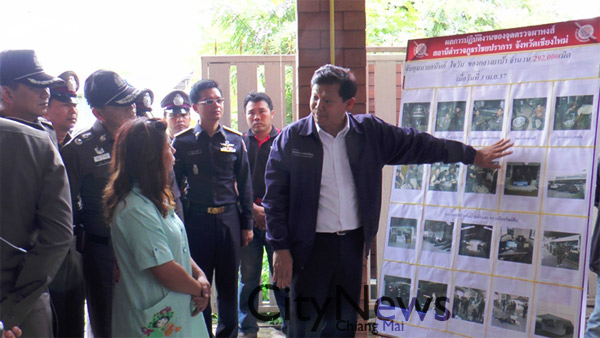 At 9:30 a.m. on May 3rd, Pol.Gen. Pongpat PongJarern, Secretary of the Office of Narcotics Control Board (ONCB), led a team of officers to seize assets from Phrao Auto Car in T. Patum, A. Phrao. The owner, Anan Jaiwan (42), who also owns Wieng Phrao Radio FM 102.0 MHz, was arrested last month in Amphur Chai Prakarn with 292,000 yaba pills hidden in a spare tyre of his pickup truck.
All assets are under his wife's name, Achan Jaiwan (40). They include land, houses, commercial buildings, cars, trucks, tractors, motorcycles, guns, and a radio station. The total value is around 150 million baht. She was also charged with being an accomplice in drug dealing activities and money laundering.
General Pongpat told reporters that Anan's network is part of drug kingpin Colonel Yisay's. They have been working with a Muso soldier who oversees the drug trade in the area for a long time, police say. The ONCB is now anticipating 100 million pills to be smuggled through the border sometime soon.