Story first published in The Phuket News
AJ Grosvenor, a ten year old student in P4 in the English Programme at Darasamuth Phuket School won first place in a national spelling competition in Bangkok.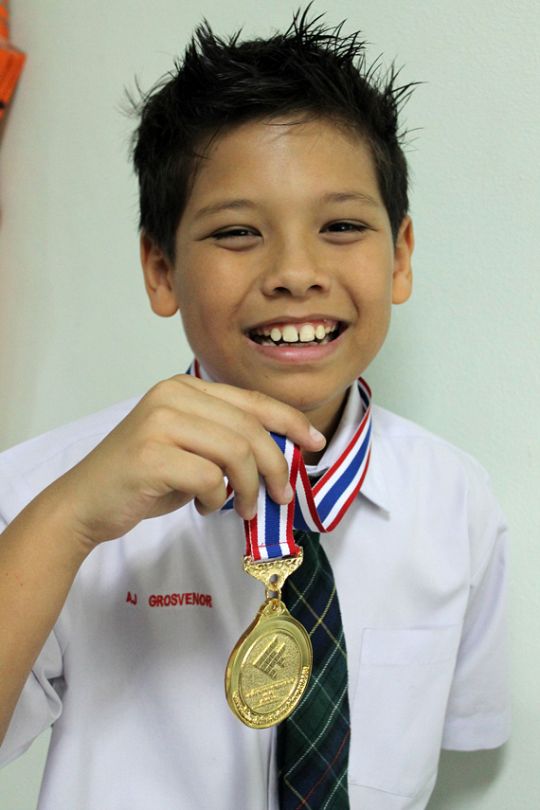 AJ with his medal
He won first place in the Phuket round, then first place again in the southern provinces round, and completed his hat trick by ranking first in the country.
AJ achieved the same position last year, in the P1-P3 group. This year it was much more difficult as it was the P4-P6 group, so there were much older children for him to compete against. He managed a score of 85 per cent and said that the word that caused him most difficulty was 'poignant'.
His teachers had been preparing him with a new list of words to practise each week, so he now has an incredible vocabulary. "Each time I passed him in the school, I would test him with a difficult word with an irregular spelling, and he never failed to impress me. He works so hard and is an inspirational student for our school and the whole of Phuket," said Stephen Brady, Darasamuth Phuket School Head of English Programme.
AJ was given a gold medal at the competition which took place in Bangkok on February 19. "We were waiting excitedly for the phone call at school and were so proud when we heard the news of his achievement," says Stephen.
"He has taken it all in his stride and appears to think it's not such a big deal to be the best speller in his age group in the whole country.
"His English teacher, Andy Dawson, from the UK, is now working hard on developing new challenges for AJ, to ensure he is pushed to the best of his ability. And AJ is certainly up for the challenge!"
http://www.thephuketnews.com/phuket-student-named-best-speller-in-thailand-45054.php