CityNews – Tech website Ventureburn recently reported how a new gadget available in Thailand that might help change the face of corruption as we know it in Thailand.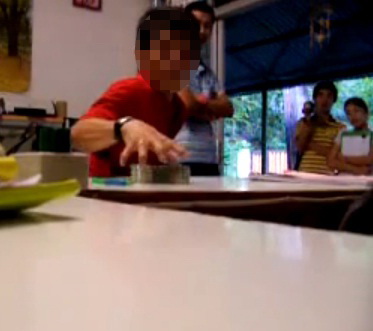 Chiang Mai's trusty 'music police' that CityNews helped put a stop to
The fact is if you live in Thailand, or have been here longer than say a week, then you've likely seen or been involved in some sort of corruption. Thailand was rated 88 out of 174 by the Corruption Perceptions Index 2012. Paying bribes, hopefully small scale stuff and not life-changing set-ups, is part of our life in Thailand. Things are often rigged, from football games to getting out of jail after killing someone.
The all new concept Bribespot Thailand could change things dramatically. After all, being caught, or loss of face, often compels one to change their ways.
The non-profit anonymous site offers apps and maps where people can see where Thailand bribe hotspots are, and what kind of 'bad' activity they might run into. Users can share stories of experiences such as silly fines in Bangkok for dropping cigarette butts, or cops screwing bar owners out of money for playing 'I'll do it my way' on their beloved iPods. If you spot a bribe, or are involved in any shady activity just go into the site and record what happened.
The organization, that already has a Bribespot in Lithuania, chose Thailand not just because the country is in dire need of it, but because they say Thais are tech-savvy and ready for the product.
Ventureburn.com writes that:
"With the Bribespot application installed, users can drop a pin using GPS of when the bribe happens. Users can also indicate how much money was requested, by which type of authority, whether the posters paid, and the reason for the bribe. In addition to GPS, users can type in the street or address to indicate where the bribes happen.
The only thing that Bribespot omits are the real names of both the posters and the authorities. The team got some help from SIIT research center to help with a Thai language filter. The system is called CORPUS.
In addition to this technology, neither the Bribespot team nor any authorities can track the IP addresses through heavy encryption. The server is also in Europe."
More information can be found at their website, and in the this article. You can also join their Facebook page.
Power to the People!