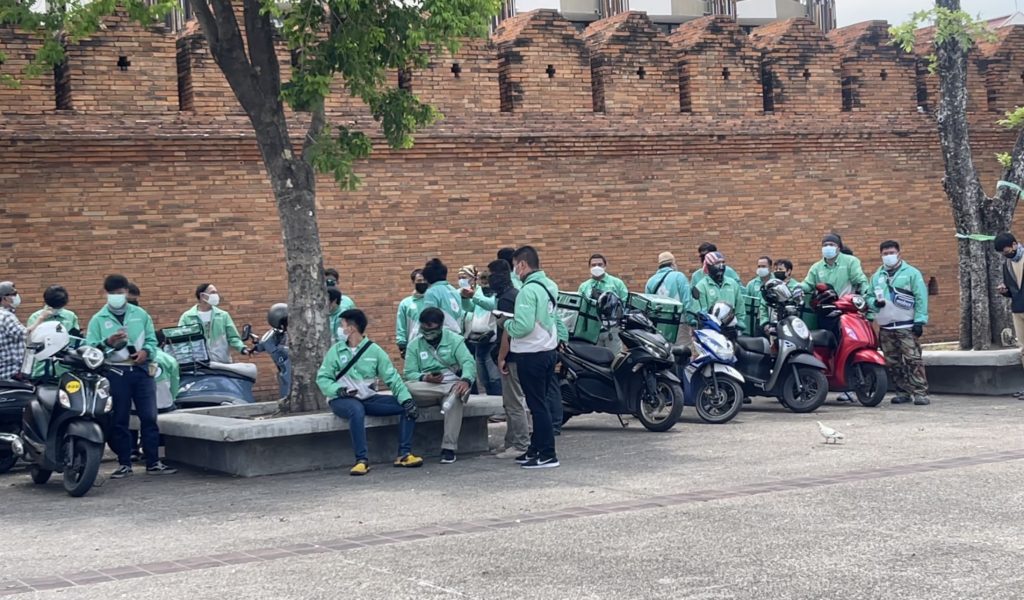 This afternoon around 100 drivers of the Lineman food delivery application gathered in front of Tha Pae gate to protest against the sudden drop in fees for delivery.
According to a representative of the group, they were given mere hours' notice of the price drop last night and have demanded the company explain to them the reason for this.
The group says that they will gather again tomorrow.
One rider told CityNews that the fee for delivery has been dropped a few times now by Lineman, now 24 baht per trip, whereas it used to be 38 baht per trip when the service was launched here in Chiang Mai. The company had told them that they would receive a surcharge of between 14-21 baht per trip for peak hours, but so far no one appears to have been eligible and there are no clear indicators of how they become eligible.
"It has got to the point where it is simply not worth our time," one driver said. "They obviously don't care about their staff at all," he continued. "We are never consulted, we are barely given notice."
There are 1,000 Linemen drivers in the Line application, tomorrow more promise to come out in protest. Food applications such as Food Panda, Lineman and Grab have been accused of taking upwards of 35% commission from restaurants and underpaying their staff while their businesses continue to grow.