CityNews – Although World Health Organization (WHO) states that the number (taken in 2002) of suicides in Thailand is relatively low on a global scale, reports of foreigners jumping to their deaths from condo buildings or taking their life with a gun are fairly common in Thailand. A quick Google search stands as testament to this statement.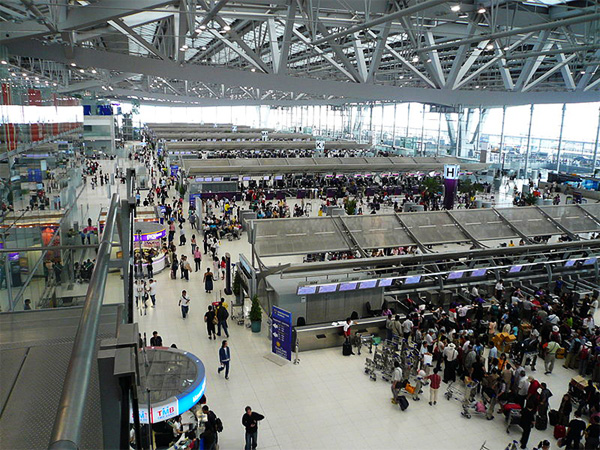 Photo by User:gronico
Recently in an article in the Bangkok Post it was stated by Raweewan Netarakavesana, the director of Suvarnabhumi Airport, that "many" people were killing themselves by leaping from the fourth terminal level to the floor below.
In fact, so many foreigners are talking their lives at Suvarnabhumi that the airport just announced a plan to install giant glass barriers so people cannot leap from the edge of the terminal.
Raweewan did not say exactly how many people had killed themselves in the airport, but he did say that three people had committed suicide in Suvarnabhumi since May this year. A frequency of tragedy that demanded action.
It was reported that the suicide spot was Level 4, between Gates 7-10. It was also reported that Suvarnabhumi had already gained a reputation as a "suicide airport", which is hardly good for tourism.
Suicides of foreigners are in the press almost monthly, and most of them seem to be in Pattaya, which might have something to do with the lifestyle associated with the city.
However support groups are available in Thailand. In Chiang Mai Suan Prung Hospital offers counseling, and there is also a Samaritans hotline for emergencies.
Samaritans hotline: 053 225 977-8.