CityNews – Thai television sensation Woody got the chance to interview the main stars of the upcoming Amazing Spider-Man 2 (Andrew Garfield and Emma Stone) but his interview with Hollywood actor, musician, and stand-up comedian Jamie Foxx is by far the most entertaining, and also, relevant – Jamie expresses his love for Chiang Mai and reveals his plans to possibly retire there in the future.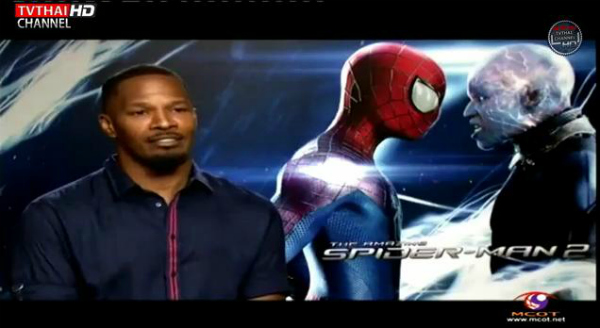 A still from the interview with Jamie Foxx.
Woody opens the interview with Jamie by teaching him how to say "Sawatdee Krap", and then telling him Thailand says hello. Jamie responds positively by saying he loves Thailand and they begin discussing Jamie's previous trip to Chiang Mai for a film project – we assume he means the 2005 film Stealth, which was partially shot in areas of Thailand, mainly Ko Phi Phi.
Click here (20:37) to start the video at the beginning of Jamie Foxx's interview.
Jamie said, "When I get through with doing what I'm doing over here, I'm going to Chiang Mai and I'm gonna live forever. I just had a great time, I threw my cellphone away." When Woody said Jamie must give him a call if he plans to retire to Thailand, Jamie responded by saying, "Yes, yes! I wanna retire there!"