CityNews – After recent articles in the media stating that the number of homeless foreigners in Thailand was on the rise – 200 foreigners, next to 200,000 Thais throughout the country – CityNews got in touch with the Issarachon Foundation, a foundation working with homeless people in Thailand and the source of the recent information about homeless foreigners.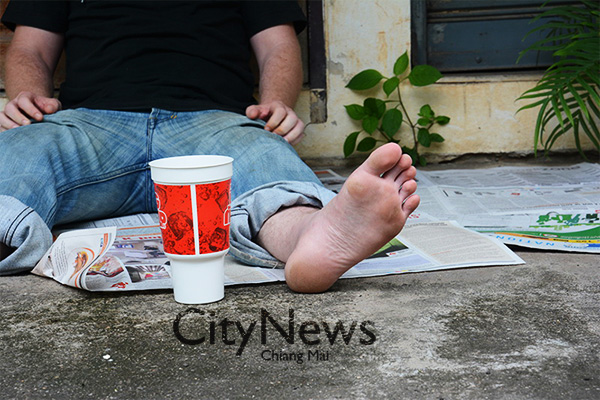 The articles in the media stated that the foundation had said that around 30 of these homeless foreigners were living in Chiang Mai, although the articles did not state where they came from, which has since become the focus of speculation on expat web forums.
The Issarachon Foundation told CityNews that when they said homeless "foreigners" those meant "farang", white Caucasians usually coming from Europe or the Americas. They also explained to us that the homeless foreigners usually fell into two groups.
1. Those who came for business such as to invest in an enterprise, but had been the victim of a Thai lover who had cheated them out of all their money. Subsequently they did not have cash to return home.
2. Those who came as a tourist but when their tourist visa expired for some reason they just did not return and went onto the streets.
A representative from the foundation told CityNews: "Since many farang look rich to some Thai people, many people don't know they are homeless." She said that due to this reason people don't report it when they come across homeless foreigners, and so the foundation may not have chance to help them.
"Besides," she added, "it is hard to help them when their visas are expired because then they are illegal. The best the foundation can do for them right now is protect their Human Rights, to give them food, ask them what they want, and try to contact any related departments such as consulates or the Ministry of Social Development and Human Security for more assistance."
She explained that often a homeless person's consulate couldn't help them as many of the visa-less foreigners wanted to be homeless in Thailand and tried not to be found.
"To get help, they need to go back home," said the representative referring to the ones who wanted assistance, "But this is a problem, too. Since they have no money, how can they fly back?"
She told CityNews that she had contacted consulates and embassies, but did not want to say which ones told her they couldn't do anything to help.
When CityNews contacted the British Consulate in Chiang Mai they responded saying that at the moment they are unaware of any British citizens homeless in Chiang Mai and have also been in touch with the foundation concerning this matter.
The foundation and government are now working together to develop policies to assist these homeless foreigners. It is estimated that there are around 100 – 200 homeless foreigners in tourist cities around Thailand.