CityNews – The warship has become the first of its class to visit the country, after its visit to Singapore, Malaysia, Japan, South Korea and China; during which time she diverted to the Philippines to provide humanitarian and disaster relief following Typhoon Haiyan.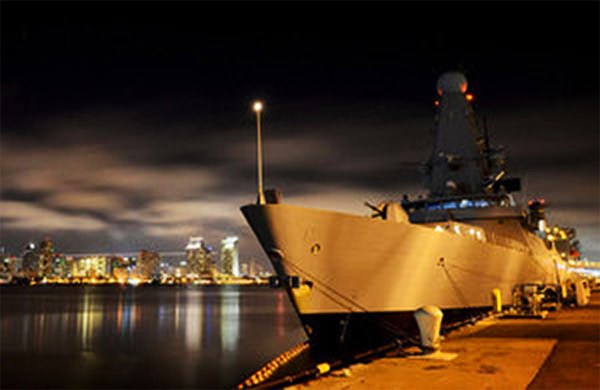 Whilst in port the ship has hosted a UK Defence and Security Industry Day and taken part in the Royal Thai Navy's Children's Day activities, offering public tours to local children. The UK First Sea Lord and Chief of Naval Staff, Admiral Sir George Zambellas, has also been in Sattahip on a visit to Royal Thai Fleet and the Royal Thai Marine Crops, and has hosted an evening reception culminating in a traditional Sunset Ceremony. It is planned that HMS Daring will conduct some joint training with the Royal Thai Armed Forces as she embarks on the next leg of her duties in the region.
The ship's Commanding Officer, Commander Angus Essenhigh, said:
HMS Daring arriving in Thailand reaffirms that the United Kingdom's commitment to re-engaging with the Royal Thai Armed Forces and demonstrates the close link between our Royal Navy and the Royal Thai Navy. Concurrently with the arrival of HMS Daring in Sattahip Naval Base, the United Kingdom's First Sea Lord and Chief of Naval Staff, Admiral Sir George Zambellas, is conducting an official visit to Thailand. This follows last year's visit by United Kingdom's Chief Defence Staff, General Sir Nick Houghton and the re-establishment of a resident Defence Attaché, Col Chris Luckham.
Prior to HMS Daring the most recent ship visits to Thailand were HMS Bulwark in 2009 and HMS Scott in 2008.
Further information
About HMS Daring
HMS Daring was the first of the United Kingdom's Type 45 class destroyers to be built and the first to complete an operational tour for 6 months in the Arabian Gulf last year. Launched on 1 February 2006, she was built by Bae Systems at Scotstoun and underwent intensive trails as the first of her class prior to being handed over to the Royal Navy in December 2008. HMS Daring was commissioned 27 July 2009 in a ceremony attended by Her Royal Highness the Countess of Wessex, the ship represents a major leap forward in Area Air Defence capability.
HMS Daring's Sea Viper Missile System, consisting of the Aster family of Surface toSea Viper Missile System and the Type 1045 (Samson) Radar, is the most advanced Maritime Air Defence system in the world. The cutting edge phased array radars and integrated missile system technology which enable the comprehensive defence of Aircraft Carriers or other High Value units, are just half the story. With fully electric propulsion HMS Daring has the advantage of flexibility, acceleration and endurance; able to travel 7000 miles without re-fuelling. Daring has deployed with a crew of 225, and a Westland Lynx Mk8 Helicopter.
HMS Daring is able to embark a 1* Battle staff headquarters for operations, a military force of up to one Royal Marine troop permanently (28 pax) or a Royal Marine Company (103 pax) for shorter timescales. The Ship is trained in all major contingency operations such as Force Protection, Non-Combatant Evacuation and Humanitarian and Disaster Relief.
HMS Daring left Portsmouth in May this year. She is the first of the six Type 45 destroyers built for the Royal Navy, all of which are based in the city.