Due to university final exams time, student pro-democracy protests have slowed down in Chiang Mai. The last few weeks have seen a reduced number of pro-democracy rallies and protests, following months of intense activities. However, now that finals are over, college students have once again begun organising.
High school students have also started organising themselves.
On Sunday night, high school student organisers held one of the largest events since the end of term. The event was held at Tha Pae Gate and was called "Nuer Nae" (meaning Absolute North). One organiser said, "The event is like a call out to the government that we're not going to bow down."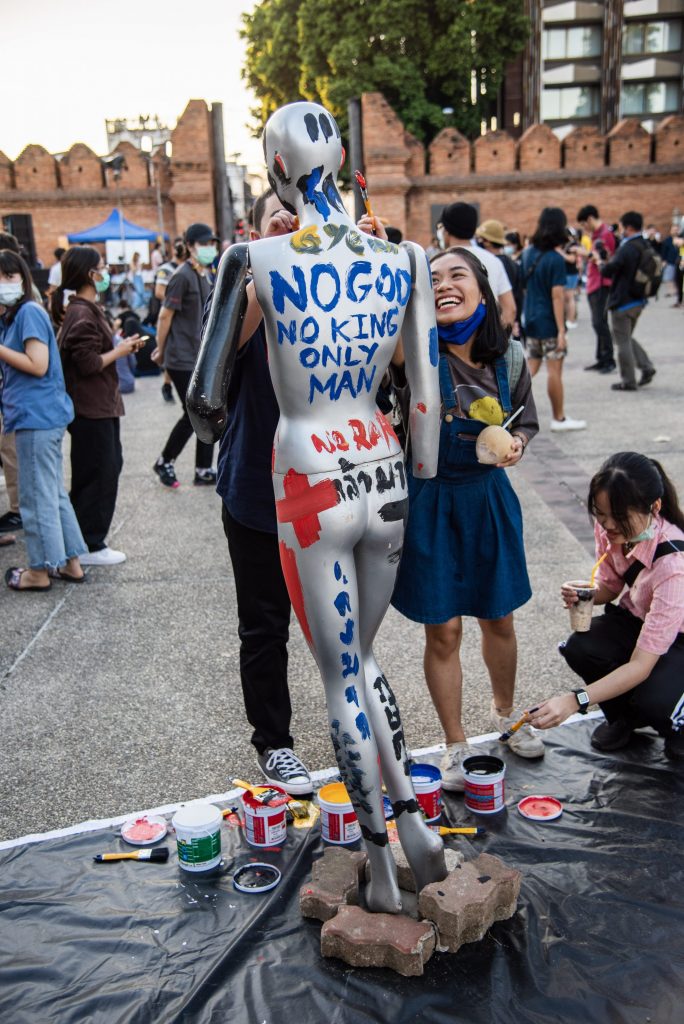 The protest was organised by local high school students who attend Yupparaj, Prince's Royal and Satit CMU schools. The young protesters call themselves Chiang Mai Student Alliance for Democracy. The group's Facebook page has over 5,000 followers and many of them are younger students. The group states that it stands for pro-democracy and freedom of speech.
The event on Sunday started around 4pm and saw over 400 people (according to organisers) join in. A stage was set on the Tha Pae Gate square as music, speeches and a fashion show was presented to attendees. Pro-democracy T-shirts, stickers, buttons and flags were available for purchase.
The protest was unique in that a large amount of food was available for free to the public. Dozens of protesters lined up for large portions of shrimp. "The free food was sponsored by a larger anonymous group," said one leader of the group. "The anonymous group wants to support the protest but with the recent conditions they cannot reveal who they are. Also, lots of anonymous money has been given to us to help finance the protest."
The young crowd was energised by the speeches that ran throughout the night. Many young students dressed in traditional school uniforms spoke about, "the double standard in Thailand, the problematic education system and about the welfare state."
Like many other recent protests, a small police presence kept watch behind the protesters.
When asked about the event's turnout, one organiser said, "I'm very happy. The night is still young. This is a long fight. We're in a game; A game that whoever loses patience first, loses. We're trying very very hard to avoid any violation that might occur. The government is trying to get the nerve of us and when there's any violence they'll declare martial law or coup. And, that's when we will lose." For more information visit the Facebook group Chiangmai Student Alliance for Democracy