CityNews – The parents of Siriporn Muima, a 17 year old girl who died during liposuction surgery in 2002, received 7 million baht in compensation at a Civil Court in Chiang Mai this week, the Bangkok Post reported.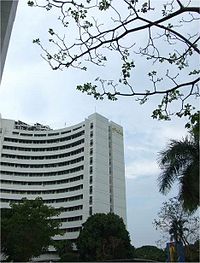 The doctor had taught at Maharaj Nakorn Chiang Mai Hospital where the girl's autopsy was performed
Siriporn Muima, who was studying at the time in Mathayom 5, died of shock during a procedure at Chalee Clinic in Chiang Mai performed by Dr Chalee Kanchanarak.
Chalee was charged with manslaughter in 2007 and sentenced to four years in jail. It was established during the trial that the doctor had been using expired drugs. An autopsy performed Maharaj Nakorn Chiang Mai Hospital in 2002 concluded that the girl's death was due to negligence.
The Nation also reported in 2002 that Chalee had already undergone a three year suspension from practising medicine after one of his patients had died during a facelift procedure.
The parents of the girl had to wait for the criminal case to finish in order to file a civil suit against the doctor, suing him for 12 million baht.