CityNews – On 1st November Khaosod reported that due to beef and buffalo meat prices going up from around 120 baht to 200 – 250 baht per kilo some meat sellers have been forced to close their shops. Other sellers have reportedly started selling dog meat.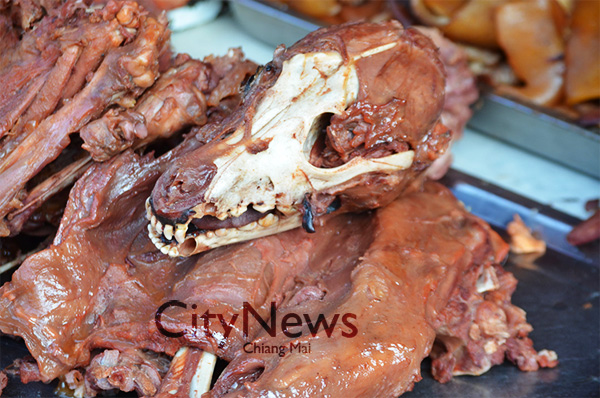 Noi, an Isaan meat seller in Sakon Nakorn said that some people have started selling dog meat to make ends meet. Even though the dog meat trade is against the law, some sellers have been taking the risk Noi said.
Dog brains have also become popular as it is believed that eating a canine's brains will enhance a person's sexual energy. Dog brains go for around 500-800 baht for one brain. The brain is cooked with spices and seasonings on a grill.
Anon, a dog seller from Sakon Nakorn, said everyone knows that it is illegal to trade dogs, but they do it partly because of the increasing price of beef and buffalo meat.
"Now the meat of black dogs is very popular because it is believed that it can warm the body in winter. Dog heads are also popular among teenagers since they believe that dog's brains will improve their sexual energy. Now it is a must-have menu for some teenagers," Anon said.
It's reported that teenagers apparently grill the head of the dog. Then they wash it and put in boiling water. When it is cooked, they take the brain out and chop it up. Some people prefer using plastic straws to suck the brain straight from the dog's head.
Sombun Kudnok, a Public Health Officer in Sakon Nakorn, said that brains do not have more protein than any other part of an animal's body. It is just a superstition brains stimulate the libido. He also said that if people must eat brains they should always be well cooked.