CityNews – Three men were killed and two severely injured early Sunday morning, May 3rd, when a female driver slammed her car into a group on cyclist on the Chiang Mai-Chiang Rai road, in the Borhin sub-district.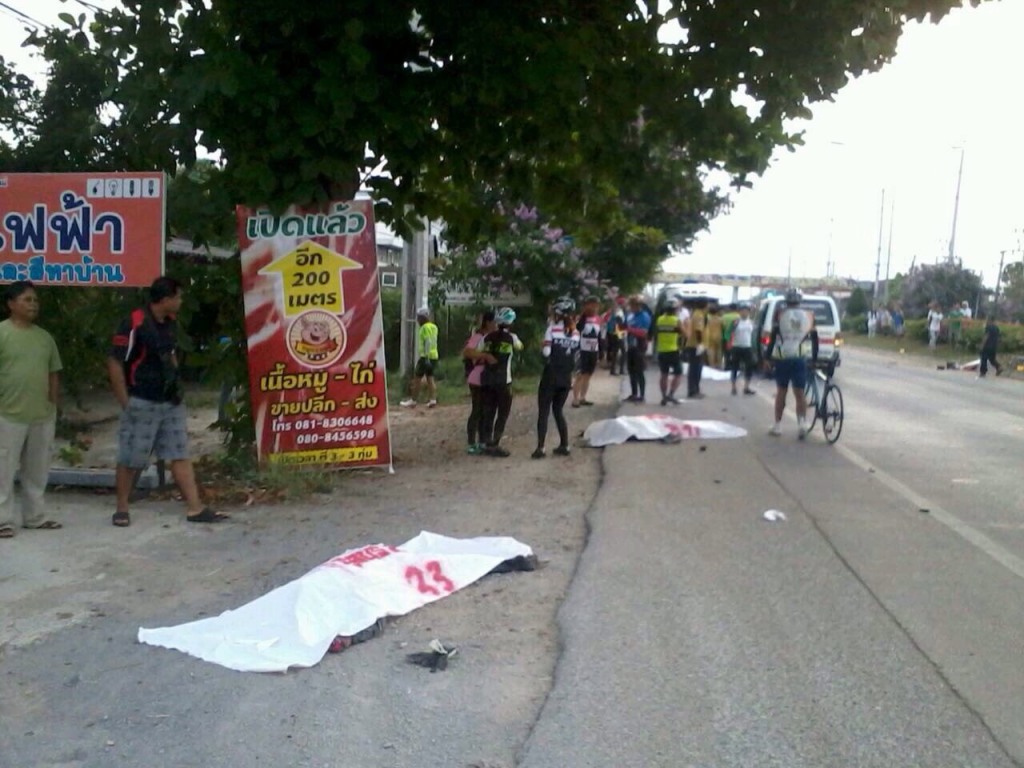 The accident occurred at 5.45am when a woman driving a car hit the rear of a group of 20 cyclist from the San Sai Cyclist Club, just past kilometre marker No.8 on the Chiang Mai – Chiang Rai road.
Witnesses say the female driver of the Toyota Yaris was travelling at speeds of up to 100 kilometres per hour when she collided with the bicycles. According to reports, the bicycles were using rear lights and there was good visibility at the time. The impact cause the car to overturn.
The three cyclists killed have been identified as 62-year-old Saman Kantha, 40-year-old Pongthep Khamkaew, and 63-year-old Chaiwat Yonglan.
36-year-old Pongsak Ponsing and 56-year-old Acting Sub Lt. Supon Tasing of the Thai military were both severly injured. They have been admitted to Lanna Hospital and Maharaj Nakorn Chiang Mai Hospital respectively.
Acting Sub Lt. Supon Tasing is currently being treated in hospital for head injuries, broken ribs and deep wounds and abrasions, according to his wife, Wassana.
The driver of the car was local university student, 23-year-old Phatchuda Chairuean, who admitted to having been drinking prior to driving.
She told police that after leaving a pub in downtown Chiang Mai, she parked on the side of the road to rest before continuing her journey home. She claims she fell asleep at the wheel.
Police Major Suriyan Chansai has confirmed that medical tests show Phatchuda had 67 milligrams of alcohol in her blood, exceeding the 50 milligram limit. She will face changes for drink driving and causing death and injury by dangerous driving.
Chiang Mai Governor, Suriya Prasatbandit, has visited Supon Tasing in hospital, where he spoke about improved safety measures for cyclists in Chiang Mai.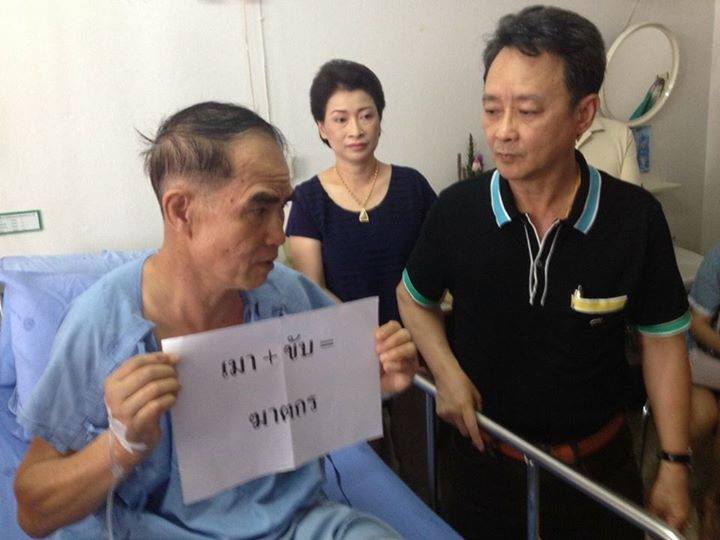 According to Governor Suriya, Chiang Mai is the first province to establish bicycle lanes. Roads have also been improved to better support cyclists and a 40 kilometre zone, dubbed "Slow City" zone, has been set up around the moat.
He went on to speak of future plans to make some roads in Chiang Mai cyclist-only on some days and further cycle lanes are set to open this May.
Suriya has also stated that 3,000 people were arrested for drink-driving offences during March and April this year.