CityNews – Anna Brooks (25), a Canadian national currently working in the editorial department of CityNews was robbed last night, June 19th, round 3.30 a.m. while on her way back to her guesthouse.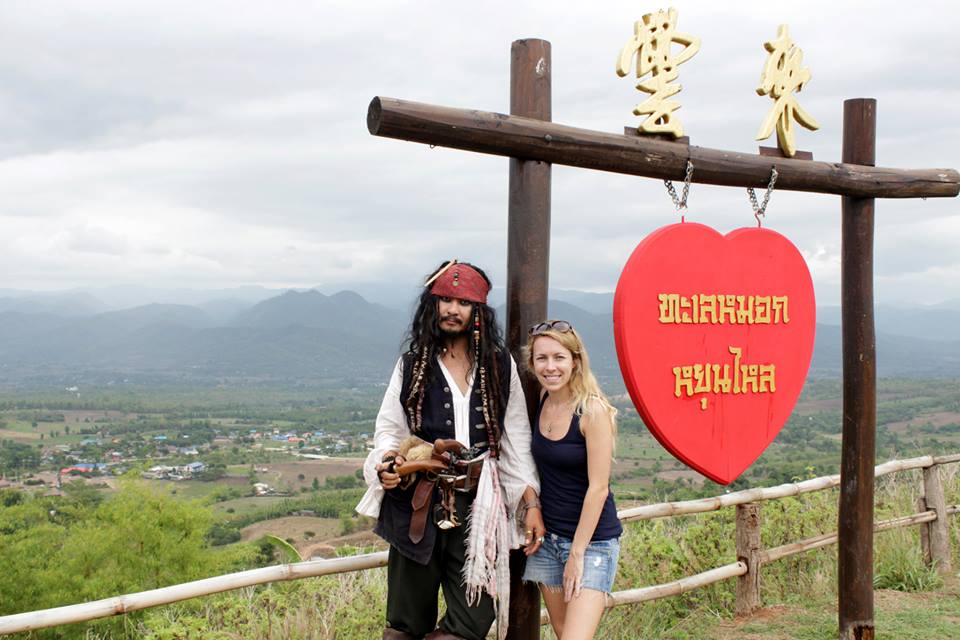 Anna (left), with a pirate
"A tuk-tuk dropped me off on my street,' said Brooks, adding that not long after "some guy hit me with his motorbike, not too hard, but enough so I stumbled, and then he ripped my bag off my neck and drove off."
Brooks, not surprisingly, was walking around the old city in the Chang Moi area, which is notorious for bag snatching. Although snatching is an ongoing problem in this area fortunately the thieves very rarely use violence. They prey on single women, usually carry a knife if they have to cut any straps, and it usually happens in the early hours.
Brooks said she will report the theft to the police, but unfortunately she says she didn't see mcuh: "It was so fast I barely had time to react. I didn't see his face, I didn't see his registration, nothing. I'm feeling stupid this morning now."
She explained that the rider was wearing a full face helmet with a dark visor. He rode his bike towards her one time, turned around, and the committed the robbery.
Brooks lost credit cards, around 500 baht, an iPhone, and the key to her guest house.