CityNews – Five people have now died after a bus crashed on its way to Chiang Mai from Mae Hong Son resulting in a tragedy for some of its occupants.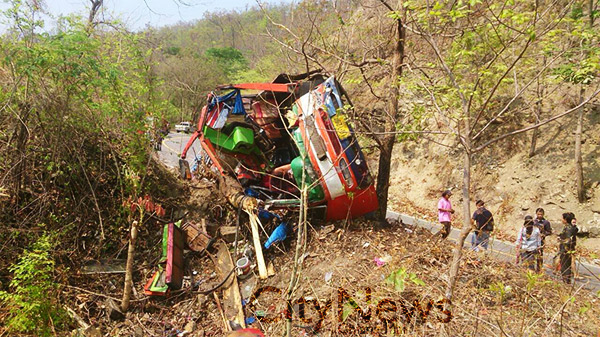 On April 17th at 7 a.m. Hot Police received a report about a traffic accident on the Hot-Mae Sariang Road (km 23-24. Emergency units were sent from nearby hospitals, though four people died at the scene and one person died later. Four more people sustained serious trauma, seven were badly injured, and 41 escaped with minor injuries. All crash survivors were taken to Hot Hospital.
When officials arrived at the scene they found an orange and white bus belonging to Prempracha Khonsong Co.Ltd. that had smashed into a tree on the side of the road.
The bus driver told the police that he was driving from Amphur Mae Sariang, Mae Hong Son, and was heading to Chiang Mai. He added that he was cut off by a motorcycle and then lost control of the bus.
One girl, Thanawan Khamsan (15), lost her 38 year old mother while her infant half brother, Apilak Somkham, is still in a coma with a broken skull and collar bone. Thanawan told reporters that they were on their way to pay her tuition fees at her technical college in Chiang Mai. At the scene, she tried to resuscitate her mother but was unsuccessful. Her father had also passed away earlier last year and left her mother as the main income provider for her and her half brother.
Jirayu Ngok-Ngam, Chief Executive of Bo Salee Sub-district Governing Organization, has said the SGO will help with the cost of Thanawan's tuition fees and her brother's hospital bills. The SGO is also accepting donations to help Thanawan. Contact Jirayu at 08-0135-0871 or 08-1884-9919.