CityNews – Since the 6.0 Richter earthquake hit Chiang Rai and the North of Thailand on May 5, Highway Department engineers and workmen have rushed to repair the Chiang Mai – Chiang Rai road, Highway 118, which had major cracks that were famously shared on social media.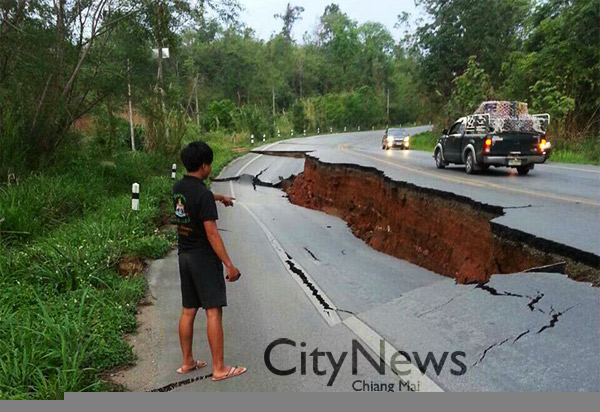 As of May 13, the final number of damaged buildings was published. Affected were: 8509 houses, 99 temples, 46 schools, 33 government buildings, 7 churches, 6 companies, 5 roads, 4 bridges, 2 community buildings, 1 university, 1 hotel and 1 village plumbing system.
The Department of Mental Health has identified around 200 people that have been treated for Post-Traumatic Stress Disorder following the strong earthquake. Tourism to the North has been unaffected, according to the Tourism Authority of Thailand.
Work began urgently on Highway 118 after the initial earthquake, and is reportedly now fully repaired. Actual work to the road was finished on May 8, but safety and integrity checks caused it to be re-opened later. All forms of road transport are now safe to travel, but it is still advisable to slow down when approaching the damaged area and to remain aware when driving.