CityNews – The family of a baby boy suffering from the rare autoimmune disorder called myasthenia gravis in Chiang Mai's Nong Bua sub-district is in need of financial help.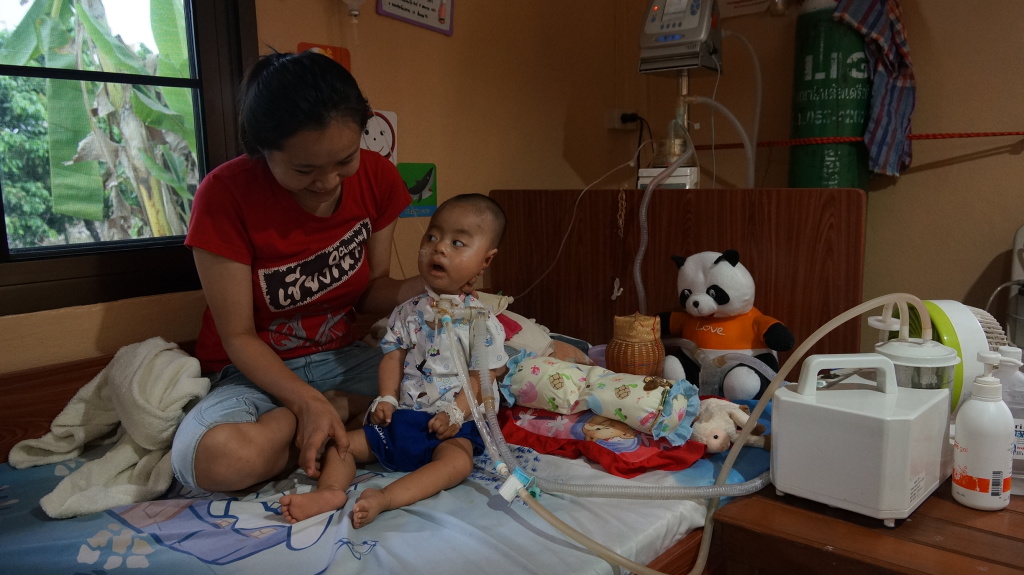 The baby boy, named Patra Thanomsap and turning one soon, was diagnosed with the disorder at two months old, and had been treated in Nakornping Hospital for around five months before getting home. The hospital let his family borrow some of their medical equipment since Patra needs to use an oxygen machine to help him breath. He receives food via a feeding tube in neck.
According to the Patra's father Niran, 41, he buys pork from a municipality's pig abattoir to sell for a living. The family has developed serious financial problems due to the high expenses of taking care of their baby boy. He hopes his son will recover, but says that currently he is in need of constant care. He, his wife, and his mother-in-law switch off taking care of Patra and spend an additional 8,000 baht per month for the boy.
"We always cheer each other up," says Niran.
The baby boy's mother, 22-year-old Patteera Thanomsap, said to her son, "You will soon be able to get up and walk. I will take you to school, but you have to be able to get up. When studying in school, students must be able to take care of themselves so that teachers will accept them."
The parents are hopeful.
Village headman Thongwan Kitikaew wants to help this family, and is asking for financial donations from anyone who is able. "They are a good family that loves to help other people and society. There should be a good thing that happens in their life," he said.
If you want to help this family, contact Niran (the father) at 084 489 5454.