CityNews – Just one week after CityNews published the story of the outspoken Thammasat student, Aum Neko, she is now being accused of committing lèse-majesté by a TV producer.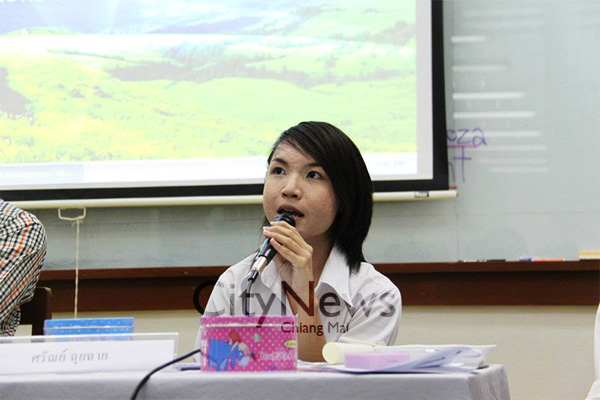 Aum Neko at University
Prior to her campaign against uniforms in Thai universities Aum, a transgender girl, had appeared on a TV show called 'Best of your Life'. It is the founder of the show, Porntipa Supattanukul, who has requested that police issue a warrant for the arrest of Aum.
Porntipa has accused Aum of making negative comments about the playing of the royal anthem in Thai cinemas, as well as digressing from the questions asked in the interview and instead insulting the Royal Institute of Thailand.
Porntipa has also asked that whoever might be sponsoring Aum and her campaign be investigated by police.
Aum has already been accused of computer crimes by The Crime Suppression Division, and she is currently under investigation by the Technology Crime Suppression Division.
Since her campaign, and after an interview for Pratachai (translated), Aum has attracted many followers, people admiring her progressive way of thinking as well as the eloquence she employs while challenging archaic traditions in university and authorities she says are limiting Thai people's freedom of speech and freedom of expression.
Her interview with Pratachai has been praised for being particularly wise for such a young woman. In the interview Aum reminds the reader of Thammasat's long history of support for "respect for others' freedom, adherence to democracy" in Thailand. She also emphasises the importance of Thammasat's founder, Pridi Banomyong, who fought for freedom and human rights for Thai people, resulting in Khana Ratsadon and the end of absolute monarchy in Thailand.
A warrant has not yet been issued, but it's well known in Thailand that police take Lèse-Majesté cases very seriously, even when the only evidence is word of mouth such as the almost Orwellian case wherein a brother (and business partner) accused his brother of LM and subsequently the man spent 11 months in jail before the courts dismissed the case last week.
Even though bail is routinely given to rapists, violent offenders, and murderers, it is almost unheard of for 112 cases to receive bail due to the severity of the crime. The prisoner can also spend years waiting for the courts to sentence him or her.
The freedom that Aum so courageously has been fighting for, could be taken away from her if the warrant is issued, and if indeed Porntipa Supattanukul has cogent evidence that Aum breached article 112 of the criminal code.
Social critic and blogger Kaewmala spoke to CityNews about this case which she is following closely:
"This case highlights the most obvious flaw of Thailand's Lèse-Majesté law, that it allows anyone to file a complaint against anyone. It clearly illustrates how the law can be so easily abused. It shows that even the court dismissal in the brother-against-brother case may not stop or discourage potential abusers to use it as a tool to settle personal conflicts or punish others for different political opinions because there is no punishment for bringing a frivolous complaint. The accused brother may have 'won' the case but he lost a year of his life and his business."
She goes on to say that if an arrest warrant will be issued for Aum, there's a strong chance she will be jailed before trial and likely denied bail like most Lèse-Majesté defendants. Her student career will be interrupted, and her life put on hold, says Kaewmala.
She explains that, "Article 112 in effect has become a swift and effective tool to suppress and repress anyone daring to demand social change. The climate of fear is seeping further to the personal level. It's becoming more and more Orwellian. The question is, how many such cases will there be, before we the last straw will break the camel's back. I don't think such abuse of the law can be sustained indefinitely. Many people have pointed to the need to change the procedure of complaint to not allowing anyone to be a complainant. I completely agree. The other important aspect to change is to insure the right to bail."