CityNews – Experts from the Department of Mineral Resources (DMR) have surveyed the areas affected by the earthquake and found found four Tambon in Chiang Rai at risk of mudslides if the rainfall exceeds 180 mm per hour.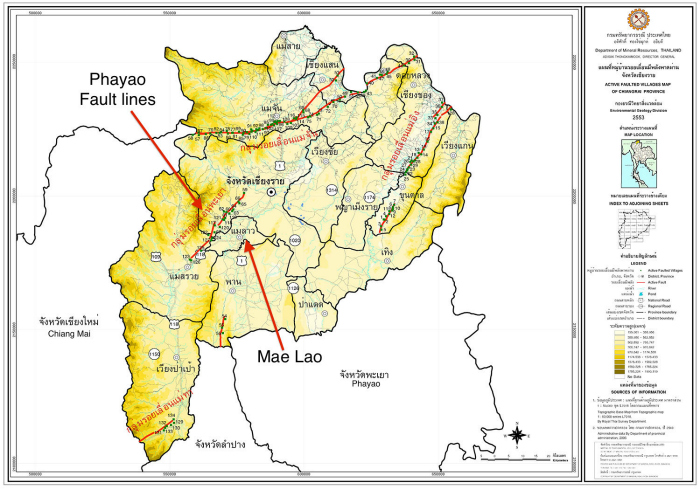 The DMR sent two teams of experts to survey the earthquake damage in Chiang Rai. Suwit Kosuwan, Director of Active Faults Research, led the team of surveyors. The second team was led by Somjai Yensabai, Director of Geological Disaster Sector.
Somjai's team went to Tambon Dong Mada, Amphur Mae Lao and found a 20-km crack in the ground starting at km 51 on Mae Lao – Mae Suai Road. They followed the crack which splits in many directions. The data they acquired was compiled with another team's to pinpoint the exact centre of the active fault. The Geological Disaster Sector team is finding out if the cracks have spread into the mountain area. If so, the heavy rainfall could cause landslides and mudslides. For now, the theory is still inconclusive pending data acquisitions.
Saijai cited the 5.9 magnitude earthquake in Kanchanaburiwhich was followed by a mudslide after cracks were formed in the mountains. The four Tambon in Chiang Rai with high populations: T. Mae Suai, T. Dong Mada, T. Pong Phrae and T. Mae Kon are at risk of mudslides when the rainfall goes above 180 mm per hour.
The source of the earthquake in Amphur Mae Lao was the the Mae Lao fault line, which is part of the Phayao fault lines. The Mae Lao fault line is also located in the middle of five other active faults which led to many aftershocks. The earthquake in 1994 at Phayao fault was measured at 5.2 magnitude on the Richter scale. "The survey and data acquisitions are to prepare and prevent future disasters. We will combine the data collected with Suwit's team and come to a conclusion within seven days." said Somjai.
For photos and story in Thai, visit the Manager.