CityNews – The Sa Kaeo border bridge was closed on Monday 23rd December due to angry Cambodian motorists protesting against the newly issued policy by Thai LPG petrol stations, which states that service stations will not fill Cambodian vehicles' illegally modified tanks, whether the vehicles are registered or not.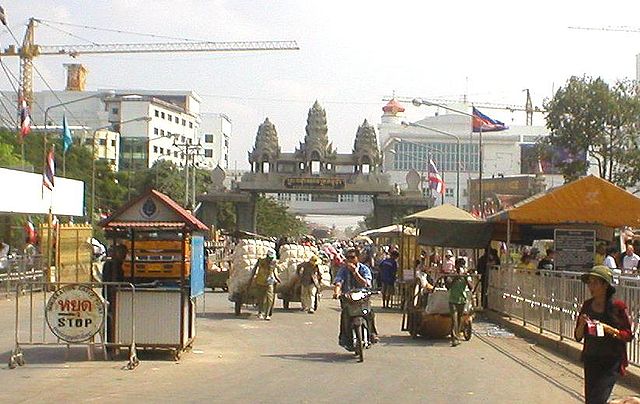 The Aranyaprathet Victory Gate on the Thai-Cambodian border in Sa Kaeo.
Thai immigration police said that owners of vehicles with illegally modified tanks will fill up in Thailand and go back over the border to Cambodia, to sell the fuel on the black market for three times the price at Thai service stations.
The blockade was caused by a group of Cambodian nationals who were upset that Thai service stations wouldn't allow them to fill up. In total, there were about 100 vehicles with illegally modified tanks waiting to be served at Thai LPG stations.
On top of that, Cambodian-registered vehicles being driven for more than seven years without inspection certificates are automatically banned from entering Thailand.
The protestors dispersed when Cambodian authorities were called in and attempted to arrest some of them.