CityNews – Particulate matter (a type of air pollution) levels in Chiang Mai is close to dangerous levels, while several provinces to the east are experiencing pollution far above the tolerated government standards.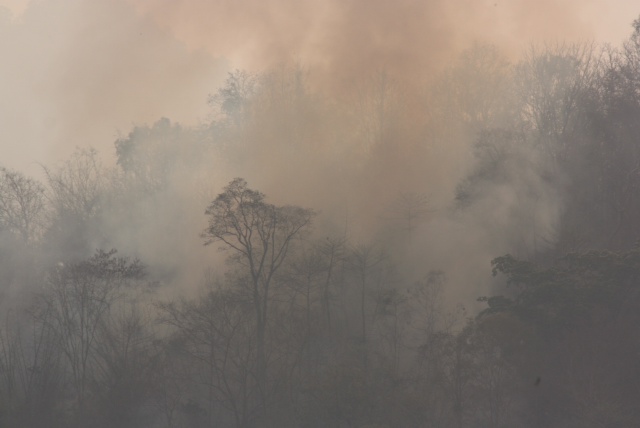 Mae Rim 2013
The PM10 (Particulate Matter up to 10 micrometers in size) readings in Chiang Mai are at 109 (2 p.m.), just below the state's danger zone of 120 micrograms per cubic metre (ug/m3). These coarse particles consist of dirt, smoke and dust from factories, farming and roads. Measurements from recent days in the eastern provinces of Lampang, Phrae, Loei, Nan and Phayao are particularly high, especially in the latter two where the levels have reached such peaks that it is advised for all residents to limit their time outdoors.
This particulate matter can trigger increased health risks to the elderly, children and people with respiratory or heart disease. Possible health effects include coughing, wheezing, shortness of breath, aggravated asthma and lung disease.
Through the years air pollution in Chiang Mai has gone from bad to worse despite the government's pledge to make the air cleaner and safer for local residents. Chiang Mai residents have complained about the substandard air quality in recent days as the notorious smog infested March and April days come closer and closer. The visibility of the mountain from the city of Chiang Mai has been poor and smog has concealed the greenery that once was so prominent. There has yet to be an official response from the local as well as the national government.