Into the Woods cafe is one of those hidden surprises in the old city! From the outside you cannot see the cute cafe hidden behind the tinted glass windows, but open the door and find a cool and classy fairytale cafe awaiting you.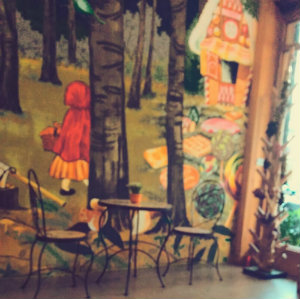 Coffee-Their menu has a range of coffee options including coffee jelly (worth trying once), but the lattes are by far the best choice at Into the Woods: they are smooth, energizing and well presented with simple latte art, at a reasonable 50 Baht.
Cafe – From the outside, Into the Woods doesn't look like anything special but as you enter you are greeted with a spacious room with a beautiful mural depicting fairy tales like Little Red Riding Hood, Cinderella and Hansel and Gretel's gingerbread house. I expected this cafe to be full of children but that's not the case: many students, tourists and Chiang Mai locals seem to frequent Into the Woods, either for it's uniqueness as a cafe (and Chiang Mai has a lot of unique cafes!) or because it's a great place to work/ study/ relax in. There is a food menu and lots of yummy cakes on offer to make you stay there longer and towards the back of the room there is a book shelf worthy of a library, as well as some comfortable arm chairs, for customers to browse. I'm not sure what else you could ask for in a cafe…..oh yes, and they have free fast wifi!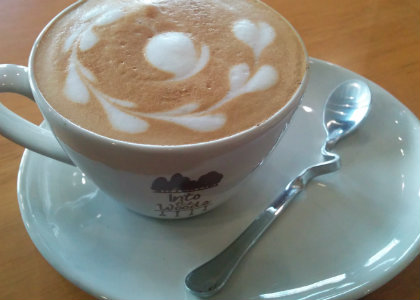 Other – A visit to the bathroom is a must. Ask the staff and they will direct you through the giant white cupboard at the back of the room – It feels like the start of the an epic adventure as you slowly open the doors- The Lion, The Witch and The Wardrobe style!
Cost: 40-80 BahtLocation: 191 Prapokklao road ( Inside the moat, just south of the North Gate)Open: 9:00 – 20:00Facebook: Into the Woods