CityNews – Police have arrested two men who killed a farmer's pig and tried to escape with the carcass on Saturday morning.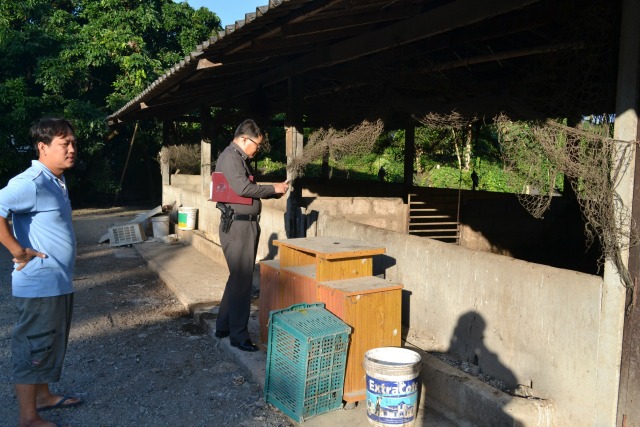 Farmer Tawee Jaima, left, with police at the scene of the crime. Photo: Weerasak Panyachod.
They had placed the pig in a sack and were planning to escape on a motorcycle when they were spotted by the farmer, 39-year-old Tawee Jaima, at around 5am.
He shouted for help from his neighbours and grabbed the motorcycle's key, which had been left in the ignition. The three men ran off, leaving the pig and the motorcycle behind.
A few hours later, police arrested Sanit Phondee, 26, and Apichat Kornsawan, 25, who confessed to the crime. Their accomplice is still on the run.
Tawee said he had installed a CCTV camera after two other pigs and around 20 chickens had been stolen from his farm last month. The arrested men denied responsibility for these earlier thefts.