CityNews – A standoff between monks and officials continues this morning at the controversial "Tiger Temple" as staff from the Department of National Parks, Wildlife and Plant Conservation (DNP) try to seize six protected Asiatic bears.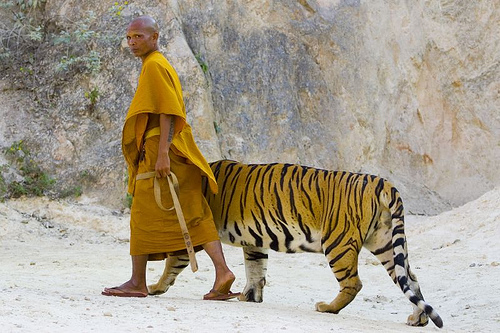 According to the Bangkok Post and Edwin Wiek, Founder of Wildlife Friends Foundation Thailand, 100 monks and disciples of the tiger temple have prevented officials from removing the bears said to be kept at the temple illegally.
On his Twitter account, @EdwinWiek, Edwin has reported that DNP officials have had to cut through the bars of the bears' cages as temple staff refuse to open the gates.
Armed with a search warrant, about 70 officials, military officers, police and veterinarians from the DNP yesterday raided Wat Pa Luangta Maha Bua Yannasampanno following fresh allegations of animal abuse at the temple.
Director of DNP's wildlife crime suppression unit, Somsak Phupetch, has stated that temple staff were unable to produce official documentation for possession of the bears and have since been uncooperative during the attempted removal of the animals.
This is not the first time in recent days that the popular tourist attraction has hit the headlines for alleged animal abuse.
Thai PBS is also reporting that DNP officials are searching the temple for three Bengal tigers that have allegedly disappeared from the premises. According to the Wildlife Friends Foundation of Thailand, the temple's chief veterinarian has accused the temple of trafficking the tigers into a foreign country.
These tigers are said to be among the seven Bengal tigers seized by DNP staff in 2001. These tigers were left at the temple following promises by temple staff that they would be looked after.