CityNews – More than 40 novice monks at a temple in Mae Rim fell ill with food poisoning at the weekend.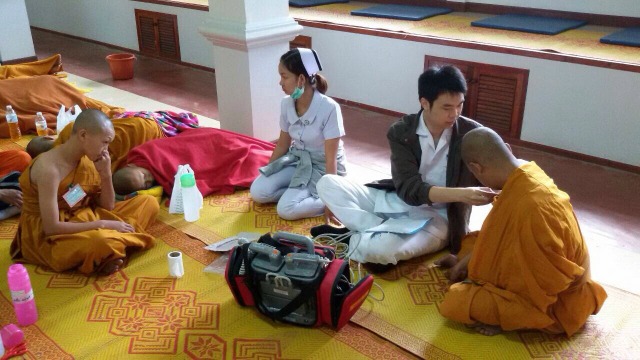 Photos: Weerasak Panyachod.
Five of them were in a severe condition and were treated at Nakornping Hospital on Saturday night and Sunday morning after apparently eating contaminated food.
The rest were treated at Wat Phra Non (Khon Muang), where doctors and nurses from the hospital administered first aid and medical care.
The novice monks are mostly aged 13 and 14. Dr Thoranee Kayee, deputy director of the hospital's Incident Command System (ICS), said they were pupils from three Chiang Mai schools – Navamindarajudis Phayap, Suksa Songkhro, and Wat Phranon Khonmuang.
On Saturday morning, after going out to collect alms, the young monks ate chicken and rice, and later the food that was donated to them by devout Buddhists.
In the evening, they drank fermented milk and malted milk. The doctors said they would investigate what was responsible for the illness.