CityNews – Anti-junta fliers were strewn in toilets at Chiang Mai University (CMU) after soldiers forced the cancellation of a lunchtime meeting yesterday.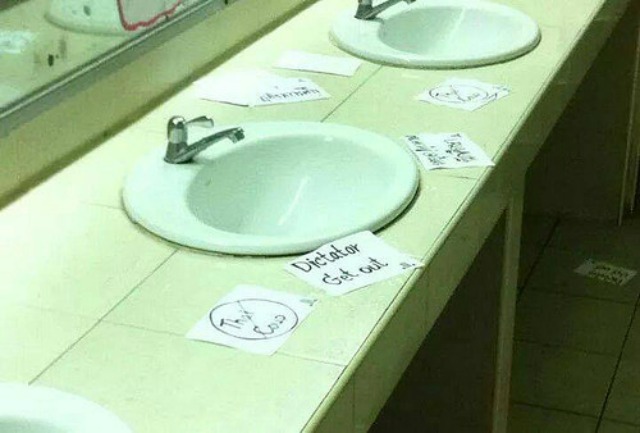 Photo: Prachathai.
More than 30 soldiers arrived to monitor a planned meeting on 'activities under martial law', the Prachathai news website reported.
The event was organised to test the military response and let people in the outside community know that CMU students are active in the fight for democracy, a source told CityNews. The main organisers didn't show up, as planned, and there were no arrests.
After the event was cancelled, students distributed leaflets in toilets in the Student Association building, Prachathai reported. They contained messages reading, "No Coup", "Stop intimidating students", and "Dictator get out".
A separate activity was held at the university yesterday lunchtime, with employees and students making Thai and royal flags for a bicycle rally in honour of His Majesty the King on December 6.
Dr Thanarak Suwanprapit, CMU's vice-president for academic and educational quality, denied claims that this had been arranged to deflect attention from the anti-coup meeting, saying it had been planned earlier.
He said students have the right to express their views, but they must use that right based on proper thinking, since some views cause conflict and create more disadvantages than advantages.