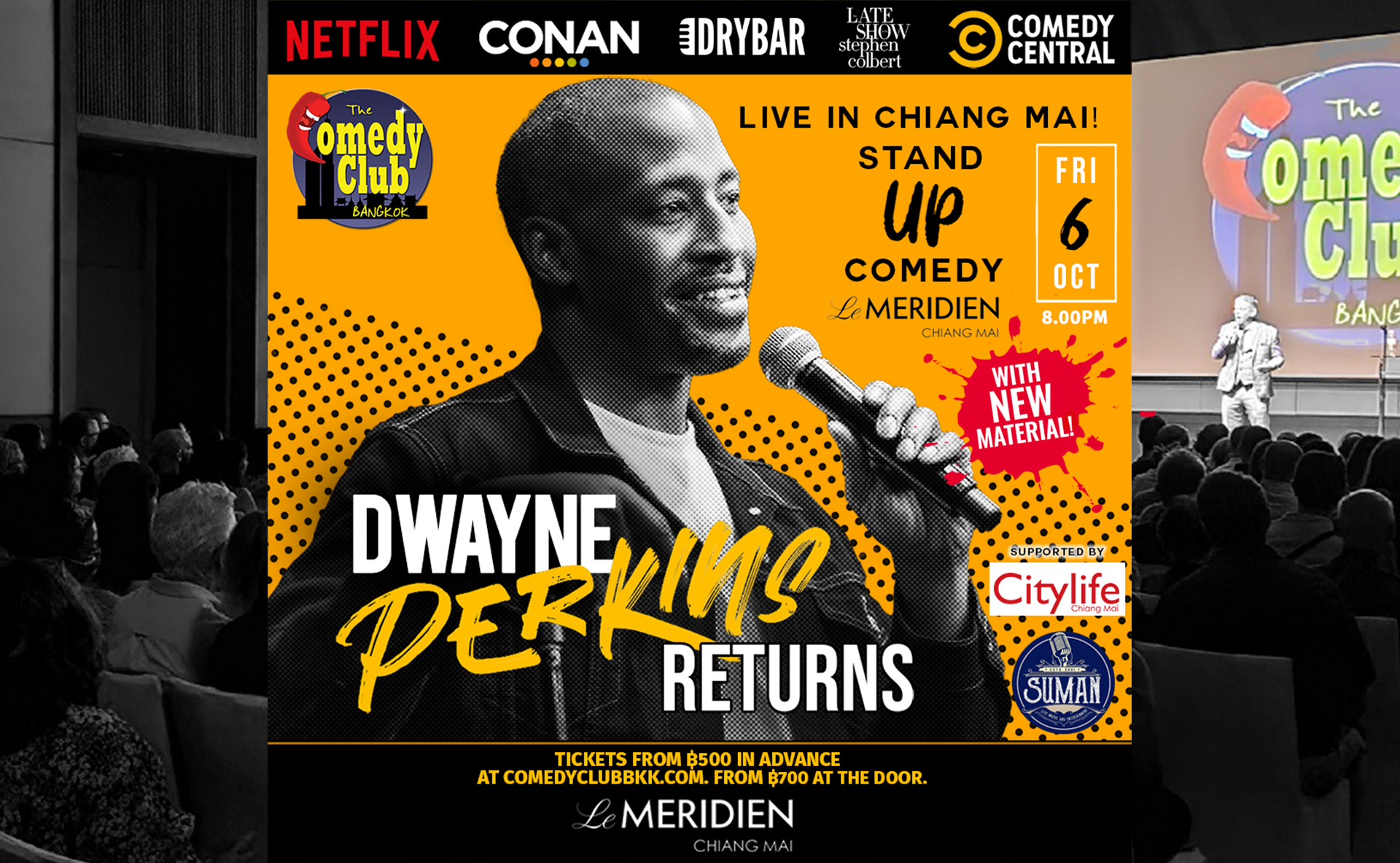 𝐅𝐫𝐨𝐦 𝐋.𝐀. 𝐭𝐨 𝐂𝐡𝐢𝐚𝐧𝐠 𝐌𝐚𝐢, 𝐓𝐡𝐞 𝐂𝐨𝐦𝐞𝐝𝐲 𝐂𝐥𝐮𝐛 𝐁𝐚𝐧𝐠𝐤𝐨𝐤 𝐚𝐧𝐝 𝐋𝐞 𝐌𝐞́𝐫𝐢𝐝𝐢𝐞𝐧 𝐂𝐡𝐢𝐚𝐧𝐠 𝐌𝐚𝐢 𝐚𝐫𝐞 𝐯𝐞𝐫𝐲 𝐩𝐫𝐨𝐮𝐝 𝐭𝐨 𝐩𝐫𝐞𝐬𝐞𝐧𝐭 𝐭𝐡𝐞 𝐫𝐞𝐭𝐮𝐫𝐧 𝐨𝐟 𝐚 𝐭𝐫𝐮𝐞 𝐜𝐨𝐦𝐞𝐝𝐲 𝐯𝐞𝐭𝐞𝐫𝐚𝐧, 𝐁𝐫𝐨𝐨𝐤𝐥𝐲𝐧 𝐧𝐚𝐭𝐢𝐯𝐞 𝐃𝐖𝐀𝐘𝐍𝐄 𝐏𝐄𝐑𝐊𝐈𝐍𝐒!
After a sold-out Thailand Tour in 2022, DWAYNE PERKINS, as seen on NETFLIX, CONAN, COMEDY CENTRAL and much much more, is back Oct 6th, at LE MÉRIDIEN CHIANG MAI with new jokes and his trademark charm, intelligence and sheer laugh out loud funniness that only Dwayne knows how to bring.
So after shows including JO VU, DANA ALEXANDER, AHMED AHMED and NEAL BRENNAN, Chiang Mai prepare yourself once again for DWAYNE PERKINS RETURNS – LIVE IN CHIANG MAI – back for one night only and only at the (newly rennovated) LE MÉRIDIEN CHIANG MAI where our shows began! With special prices on drinks and food!
Tickets from ฿500 in advance at bit.ly/OCT6-COMEDY-CM / ComedyClubBKK.com. From ฿700 at the door.
𝐌𝐨𝐫𝐞 𝐨𝐧 𝐃𝐰𝐚𝐲𝐧𝐞 𝐏𝐞𝐫𝐤𝐢𝐧𝐬!
With a long list of TV credits, Dwayne is best known for his brilliant one hour comedy special: "DWAYNE PERKINS: TAKE NOTE" which debuted on NETFLIX to rave reviews and instantly became a fan and critic favourite. Dwayne has earned a spot in today's elite class of stand-up comics with several appearances on CONAN and COMEDY CENTRAL including his half hour special which was voted one of the top 25 Comedy Central specials of all time! It showcases his unique way of looking at life and his unparalleled ability to convey it in a hilarious manner. As well as starring on THE LATE SHOW WITH STEPHEN COLBERT, his recurring piece on THE JAY LENO SHOW entitled "Great White Moments in Black History" has long been a viewer favourite.
We cannot wait to see what DWAYNE PERKINS RETURNS brings!