CityNews – A songthaew driver yesterday returned a set of lottery tickets valued at around 30,000 baht to their owner, who had left them in his vehicle.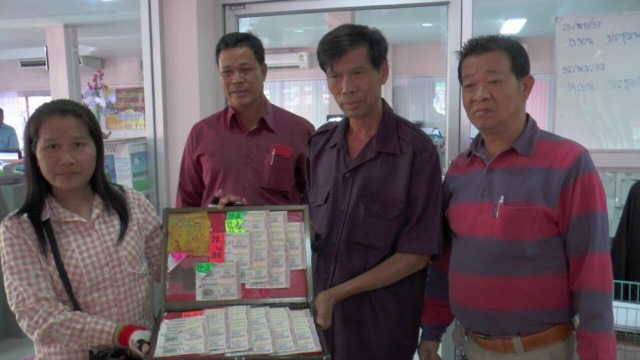 Yaowapa, left, with Kamron, second from right, and Nakornla Lanna president Singkam Nanti, right. Photo: Weerasak Panyachod.
Ticket vendor Yaowapa Narat, 34, left them in the songthaew while travelling from Maharaj Nakorn Chiang Mai Hospital to her home near Wat Chang Taem on Tuesday.
Driver Kamron Tanoi, who works for the Nakornla Lanna songthaew company, said that after discovering the tickets in his vehicle he drove back to the spot where had dropped Yaowapa off, but couldn't find her.
He then went to a police station to ask if anyone had reported the lottery tickets missing, and when told that no one had he handed them to the company president for safekeeping.
The company announced on its Facebook page that it had the tickets, and someone informed Yaowapa, who said she didn't think they would be returned.
After receiving them back yesterday, Yaowapa offered Kamron 2,000 baht and nine lottery tickets as a reward. But Kamron would only accept five tickets from her, saying she had to earn money to feed her family, like him.