CityNews – Soldiers arrested an activist who had shared a photo of herself and a friend on Chiang Dao mountain holding signs saying 'No martial law' and 'No NCPO', a report said today.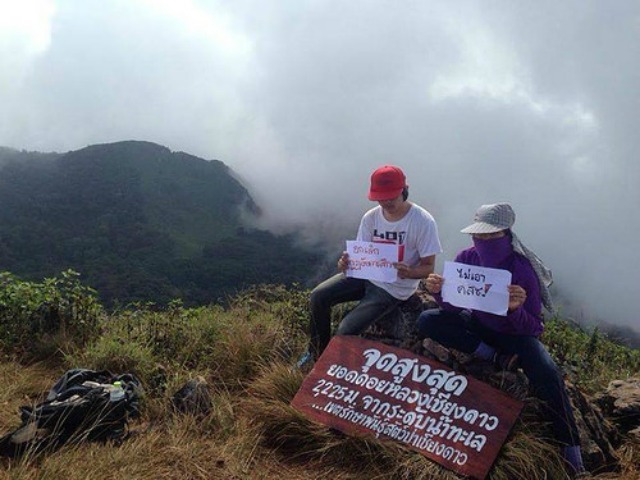 Siriporn and a friend holding the signs. The sign below reads: 'The top of Chiang Dao mountain, 2,225 metres above sea level.' Photo: Prachathai.
Siriporn Chayphet of the Thai Volunteer Service Foundation was stopped in her car at a checkpoint at around 7pm yesterday, the Prachathai news website reported.
She told officers at Chiang Dao police station that she had every right to express an opinion and was only sharing the photo among friends.
Soldiers replied that she can express an opinion but only in the second phase of the junta's reform plan, which is due to start in September 2015, she said.
The soldiers pleaded with her to sign an agreement not to publicly criticise the ruling National Council for Peace and Order (NCPO) again, but she refused and was released without charge.
The soldiers told her that they were under orders to find the people in the photo and had spent two days searching for her. All cars driving down from the mountains were searched, they said.
Siriporn told Prachathai that a military officer had taken pictures of her car since Thursday morning, but she didn't know that it would lead to her arrest.