CityNews – On Sunday 30th June, 'The Tigers' Chiang Mai FC, currently in first position of the AIS Regional League of Northern Region, took on 13th place 'The Diamond Walls' of Kamphaengphet.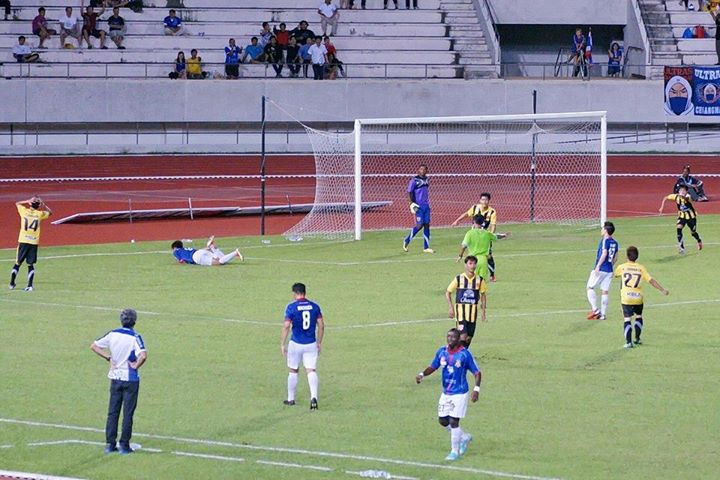 The referee pointing at the penalty spot – only later to change his mind
Chiang Mai may have been over-confident in playing mainly a reserve side, and in the 40th minute Sompong Deerum shot from distance and gave the away side the lead. After Kamphaengphet gave away a free-kick Chiang Mai equalised with Chatchai Nakvichit, who took an excellent shot.
In the second half Chiang Mai put on their stars Anggello Machuca and Ousmane Toure, but it wasn't enough. The score remained 1-1 and looked like it wouldn't change. But then in the last minute of the game Chatchai was slid in the penalty box and the ref pointed for a penalty kick. But in a strange turn of events the ref then changed his mind, and when booed by the crowd the referee was heard shouting back at them using colourful language.
The game finished 1-1.
The ref was then trapped in the stadium as angry Chiang Mai fans waited outside seeking retribution.
"We always suffer from horrible decisions by the referees, and it's happened again," said Udornpan, CMFC president. Emphatically he asked, "Why do they send such an inexperienced referee? I want to ask the Thai Football Association to send better referees." He added that the referee has since apologized to the club.
Thanks to Anucha Karnwannadej for picture