CityNews – The Land Transport Department has passed new regulations that will revoke driving licenses for public vehicle drivers who repeatedly commit traffic infractions. New reports show that Thailand has overtaken both Iran and Iraq in terms of fatalities on the road, and has moved to second place for highest traffic deaths worldwide from sixth place in 2011.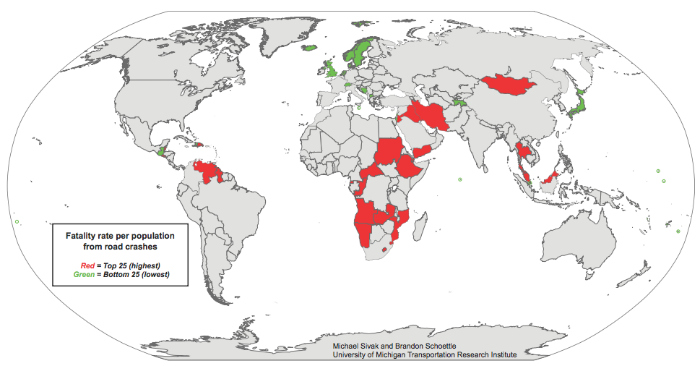 An infographic by the University of Michigan showing the top 25 deadliest countries for road deaths.
A new study published in February this year found that Thailand currently has the second-highest road traffic deaths worldwide with 44 fatalities per 100,000 inhabitants, compared to 38 per 100,000 in 2010, and almost 43 in 2011. The only place more dangerous to drive in the world than Thailand is in Namibia, where there are 45 deaths per 100,000 people. Most of the deadliest countries to drive are in Africa, where road infastructure might be lacking and vehicles unregulated and very old. Thailand, however, has a well-developed road system and an over-abundance of new vehicles on the road.
The study was conducted by researchers at the University of Michigan Transportation Research Institute using data from the World Health Organization. One of the researchers, Michael Sivak, said, "The results of this study indicate that road safety is a greatly underappreciated component of public health in many parts of the world."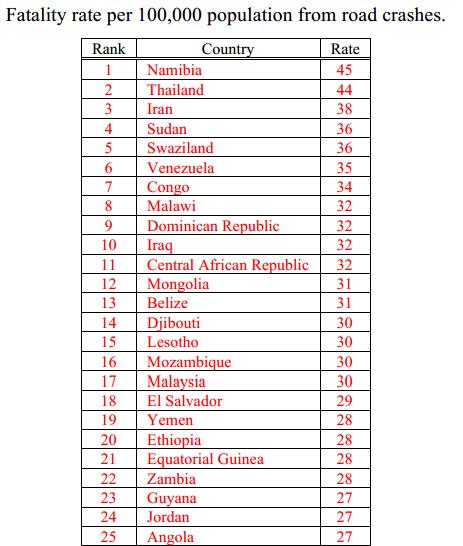 These statistics, along with international criticism of the country's fatal roads and reckless drivers, have pressured the government into creating new regulations which might curb the frequency of fatalities. Under these new regulations, the first two infractions made by the driver will result in fines. When a third infraction is made within a 12-month period from one of the first two, the driver faces a 15-day licence suspension, followed by a 30-day suspension when a fourth infraction has been made. If the driver commits a fifth infraction, they risks losing their license permanently.
According to department deputy director-general Wattan Patarachon, harsher punishments will make the drivers more vigilant. The Land Transport Department has also organized training courses for drivers of heavy vehicles, such as buses and trucks, due to the large number of deadly road accidents that are caused by these large vehicles.
For now, these new regulations will only apply to drivers of public vehicles, but eventually the transport department hopes to apply them to all motorists.
Some countries which have the lowest rates of road deaths in the world are Switzerland, The Netherlands, Israel, and the Maldives.