CityNews – Senior Chiang Mai police officers on Sunday handed over a house to a nine-year-old girl who has been living in poverty with her grandmother.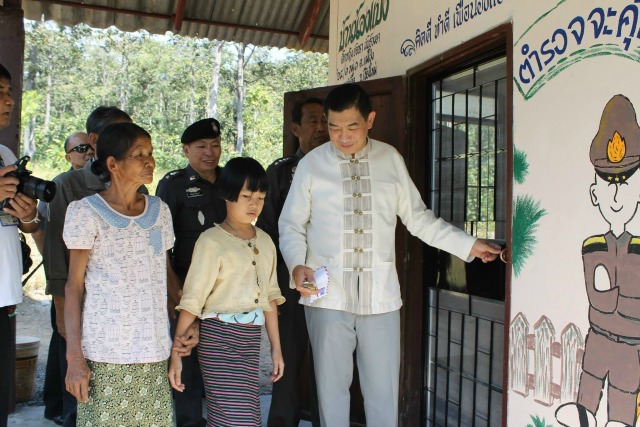 Paeng and her grandmother with Police Major General Montri Samboonnanon, of Chiang Mai Provincial Police, and below with local residents and officials. Photo: Weerasak Panyachod.
Atchara "Paeng" Panwongsa comes from a poor family and her parents are separated. She and grandmother Boonsri Maphab, 61, had been living in a small shack with zinc roofing on public land in Taladkelek village in Doi Saket district.
Local people and police officers donated money and equipment for the construction of a single-storey house with one bedroom and one bathroom. Police also donated household objects and helped with public relations for the project.
The house cost 130,500 baht to build and was completed last week. It was officially handed over to Paeng on Sunday.
Money was also donated by the nearby Wat Phrathat Doi Chom Chaeng after visitors made donations during a ceremony to offer robes to priests last Friday.
The money will go an education fund for the girl, and an account has been opened with the Government Savings Bank to collect more money to pay for her future studies. Anyone who wants to donate can do so at Mae Pong sub-district police station. Call 053 840 732 or 081 960 0049 for more information.