CityNews – Google has joined the international battle over how Russia's anti-gay laws conflict with the principles of the Olympic Games by unveiling its 7th February logo, which coincides with the opening of the Games, featuring the Olympic charter represented by the LGBT colours.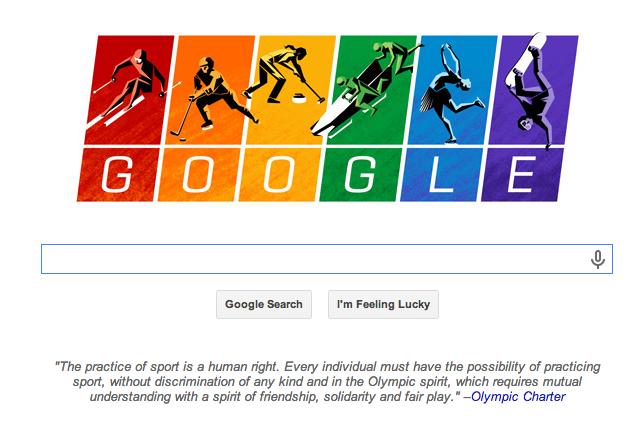 The British Channel 4 has also changed its logo in support of the LGBT movement, which sees the on-screen logo of a '4' rebranded to contain the colours of the gay pride flag.
There have been numerous debates and protests over the controversial decision to allow Russia to hold the Winter Games, with gay and human rights activists exasperated at what seems like 'acceptance' of Russia's backward views.
On Thursday 6th February, UN Secretary General Ban Ki-moon spoke out against Russia, saying the country's attitude towards LGBT people was unacceptable, and that "we must oppose the arrests, imprisonments and discriminatory restrictions they face."
The latest story to surface related to the Sochi Olympics was published on a Beijing-based satirical website, named the Ministry of Harmony, and publicizes a decision made by the Sochi Winter Olympic Committee banning the entire Chinese figure skating team from competing. The story purports that the Chinese skater Li Chunguang 'tested positive for homosexuality' during a routine anti-doping test, and was found to have 'a blood-homosexuality level of over 70%'.
As usual, thousands of people have shared the hoax story (50,000 shares on Facebook), while others claim it is a clever jab at both Russia's anti-gay laws and China's national obsession with winning gold at the Games.