CityNews – September 29, motorcycle taxi drivers in Chiang Mai have now been issued official vests and certificates in an attempt to further legitimise registered motorcycle taxis in the province.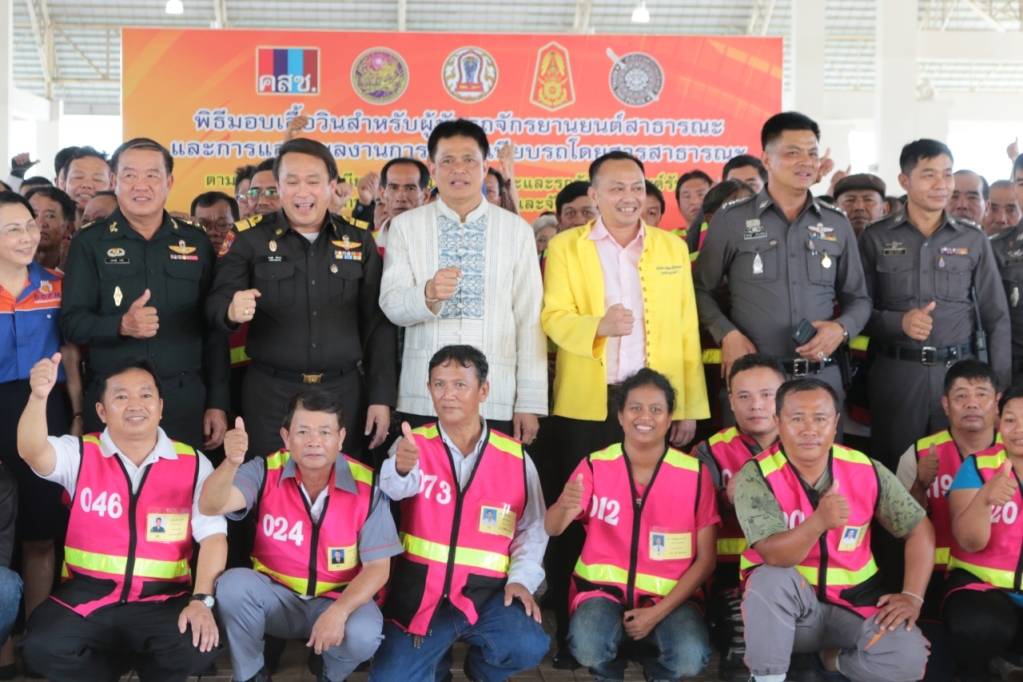 Chiang Mai Vice Governor Nawin Sinthusa-ard, Chanchai Kilapaeng of the Chiang Mai Provincial Land Transport Office and Police Colonel Piyapan Pattarapongsin of the Chiang Mai Regional Police Traffic Centre made the announcement at the Chiang Mai International Exhibition and Convention Centre on September 29.
Chiang Mai has had motorcycle taxis for some time, but until now they were often unregistered and hard to identify.
From now, all motorcycle taxi drivers must undergo training at the Land Transport Office and are tested on their knowledge and ability at driving with pillion passengers. Their motorcycles are also checked to ensure they meet the standards needed.
In Chiang Mai province, there are 61 motorcycle taxi queues, with 592 drivers. Muang Chiang Mai district has 8 queues with over 80 drivers.
In addition to the motorcycle taxis, Chanchai also mentioned the success of the new airport shuttle busses which transport people from the airport to designated areas in the city for only 15 baht. This October, six more shuttle busses will be added to this service.
If passengers find drivers of public vehicles being rude, driving badly, or overcharging, they may report them via the 24-hour hotline: 1484.
A list of all queues and the number of motorbikes at each location is listed below:
Muang Chiang Mai
Arcade Bus Station (location 1) – 45 bikes
Arcade Bus Station (location 2) – 11 bikes
Arcade Bus Station (location 3) – 3 bikes
Chang Peuak Bus Station – 7 bikes
Ton Payom Market – 5 bikes
Provincial Hall Entrance – 6 bikes
Nakorn Ping Bridge – 3 bikes
Ta Mai Bridge – 1 bike
San Kamphaeng
Chae Chang Temple – 4 bikes
San Kamphaeng Hospital – 5 bikes
San Kamphaeng Market – 5 bikes
Gao Tum – 2 bikes
Kaung San Kamphaeng – 10 bikes
Doi Saket
Doi Saket Market – 10 bikes
Doi Saket Hospital – 5 bikes
Phrao
Ta Rot Phrao – 12 bikes
Mae Rim
Mae Rim Police Station – 10 bikes
Suk-Si Market – 4 bikes
Sai Gao Waterfall – 10 bikes
Baan Lum – 14 bikes
Hang Dong
Samoeng Junction – 3 bikes
Pa Tan Junction – 1 bikes
Night Safari Junction – 5 bikes
San Patong
Baan Rai – 5 bikes
San Patong Hospital – 3 bikes
Jom Tong
Sir Jom Tong Temple – 7 bikes
Mae Taeng
Correctional Institute (Route 1) – 17 bikes
Correctional Institute (Route 2) – 10 bikes
Correctional Institute (Route 3) – 15 bikes
Mae Ta-man – 4 bikes
Mae Ngat – 6 bikes
Bangkok Bank – 3 bikes
Mae Taeng District Administrative Organisation – 4 bikes
Wiang Haeng
Baan Pieng Luang – 48 bikes
Baan Jong – 18 bikes
Chiang Dao
Muang Ngai – 10 bikes
Arunothai – 28 bikes
Mae Ai
Rajaprajanugroh – 6 bikes
Huay Pasang – 10 bikes
Mai Ai Market – 6 bikes
Chaiprakan
Chaiprakan District Administrative Organisation – 12 bikes
Baan Ta Market – 1 bike
Fang
Bunjong Market – 30 bikes
Fang Glaiya Market – 37 bikes
Behind Faang Market – 36 bikes
San Sai Klong Noi – 9 bikes
Nong Tao – 4 bikes
Mun Faang Well – 5 bikes
Mae Ka Canal – 5 bikes
Pang Kwai – 5 bikes
San Makok Wan – 4 bikes
Ang Kang Mountain – 15 bikes
Yang Nok – 10 bikes
Pong Nok – 2 bikes
Yang Nai – 3 bikes
Nong Bua – 14 bikes
Mok Jaam – 2 bikes
Ta Ma-gaeng – 5 bikes
Muang Ngam – 2 bikes
Nong Yao Temple – 7 bikes
Mae Soon – 3 bikes