CityNews – A Chiang Mai man died after his elder brother allegedly slit his throat during a drunken argument on Friday night.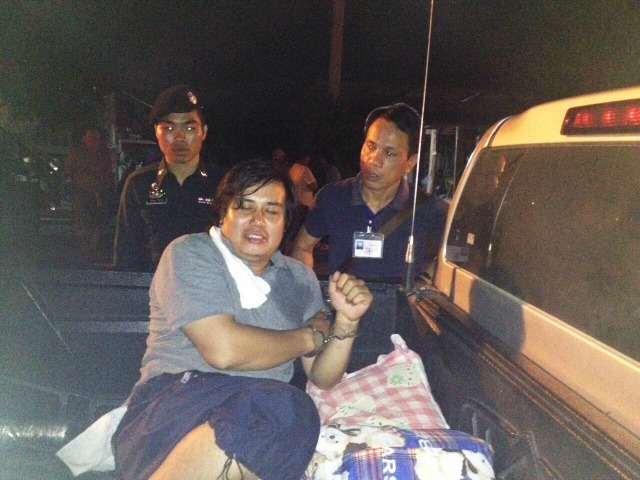 Kanchit after his arrest. Photo: Mae Chaem Police.
Police were informed at around 12.15am on Saturday, and arrived at a house belonging to the brothers' aunt. They found the body of 32-year-old Kanchai Ongphe, an assistant village headman, lying in a pool of blood.
Police said he was killed by his older brother, 36-year-old Kanchit Ongphe, who had just returned from Bangkok to help with the rice harvest.
The aunt, Sukanya Temseub, told police that the brothers had been drinking alcohol with around 10 villagers after they got back from the rice fields.
The other villagers went home, but the two brothers continued drinking and started quarrelling, so she told them to go home as well. But Kanchai got angry and threw a bottle at her, so Kanchit intervened to stop his younger brother from hurting her. The brothers fought, and then Kanchit ran into the kitchen and grabbed a knife.
He held it to Kanchai's neck and told him to stop, and then cut his younger brother's throat. Kanchit tried to escape, but villagers caught him and convinced him to give himself up. He will be prosecuted.