CityNews – This week Mark Cannella, head coach for the US Olympic Weightlifting team in London 2012, will again be at CrossFit Chiang Mai January 15-19 leading a series of workshops and certifications on Olympic weightlifting technique, coaching and programming.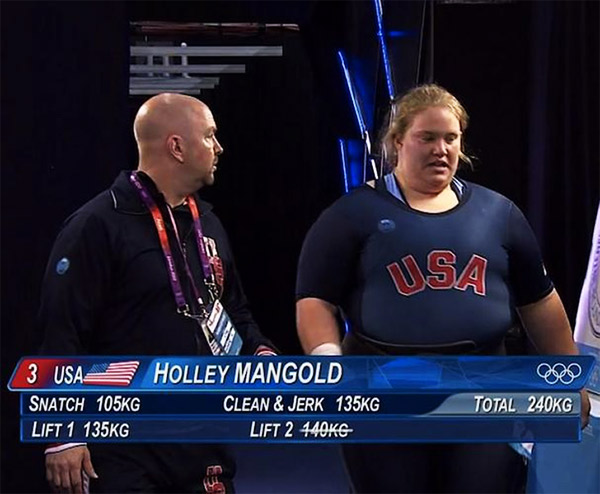 Mark and Holly
Mark Cannella is often referred to as one of the best technicians when it comes to Olympic Weightlifting. He is also the organizer for the Olympic Weightlifting Championships each year at The Arnold, the largest gathering of athletes outside of the Olympics. Mark with be accompanied by Drew Dillon, a nationally ranked Olympic weightlifter in the US, and record holder in the US state of Ohio.
Mark coached Holley Mangold to the London Olympics after Holley suffered a significant injury and setback during training. In 2011 Holley Mangold blew out her knee at the Olympic Training Center (OTC). At the time Holley had lifts of around 100kg in the snatch and 125-130kg in the clean and jerk. She was ranked around 5th for women in the US. Once her knee was injured the OTC didn't invite her back, and she started reviewing her options for the Olympics the next year. At this point her national ranking dropped from 5th to 10th and her name disappeared from discussions of the Olympics.
Her original coach recommended Mark Cannella to help her go from a good weightlifter to a great weightlifter, and Holley decided to take the advice. In two short months after knee surgery and working with Coach Cannella, Holley was hitting record lifts at the Arnold Weightlifting Championships. This proved to Holley that she found something very good. Holley continued and in one year's time moved from being ranked 10th in women's weightlifting to 2nd in the US and capturing the seat to go to the Olympics.
The Olympic weightlifting workshops on technique and coaching are open for registration, and there is still room for participants. More information can be found at www.crossfitchiangmai.com or by emailing [email protected].