CityNews –On April 23rd at 10 a.m.Governor Wichian Puttiwinyu received sporting goods and books as donations from Siam Sport Syndicate PCL on the occasion of the 40th Anniversary at the City Hall.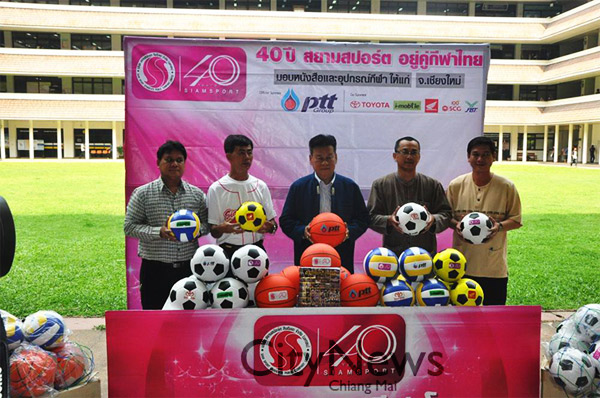 Siam Sport Syndicate PCL is Thailand's leading company in sports media. To give back to the community they organised the "Siam Sports 40th Anniversary Project" to inspire Thai youths to participate in more physical activities. The project is also sponsored by PTT PCL, TOYOTA, I-Mobile, Honda Motorcycles, SCG (Thailand) Co. Ltd. and FBT Sporting Goods Co, Ltd. The project includes four activities:
1.    Distributing the special '40 years in Pictures' books to schools across the country.
2.    Producing a TV program called 'Sport Wow! Athletes Chasing Dreams' to be broadcasted on True Vision channel 95, Siam Sports Football Channel 96 and 97 Siam Sports Live channel 97.
3.    8 brand ambassadors (sports heroes) to handout books and sporting goods to schools in 77 provinces.
4.    Providing books and sporting goods to para-athlete foundations.