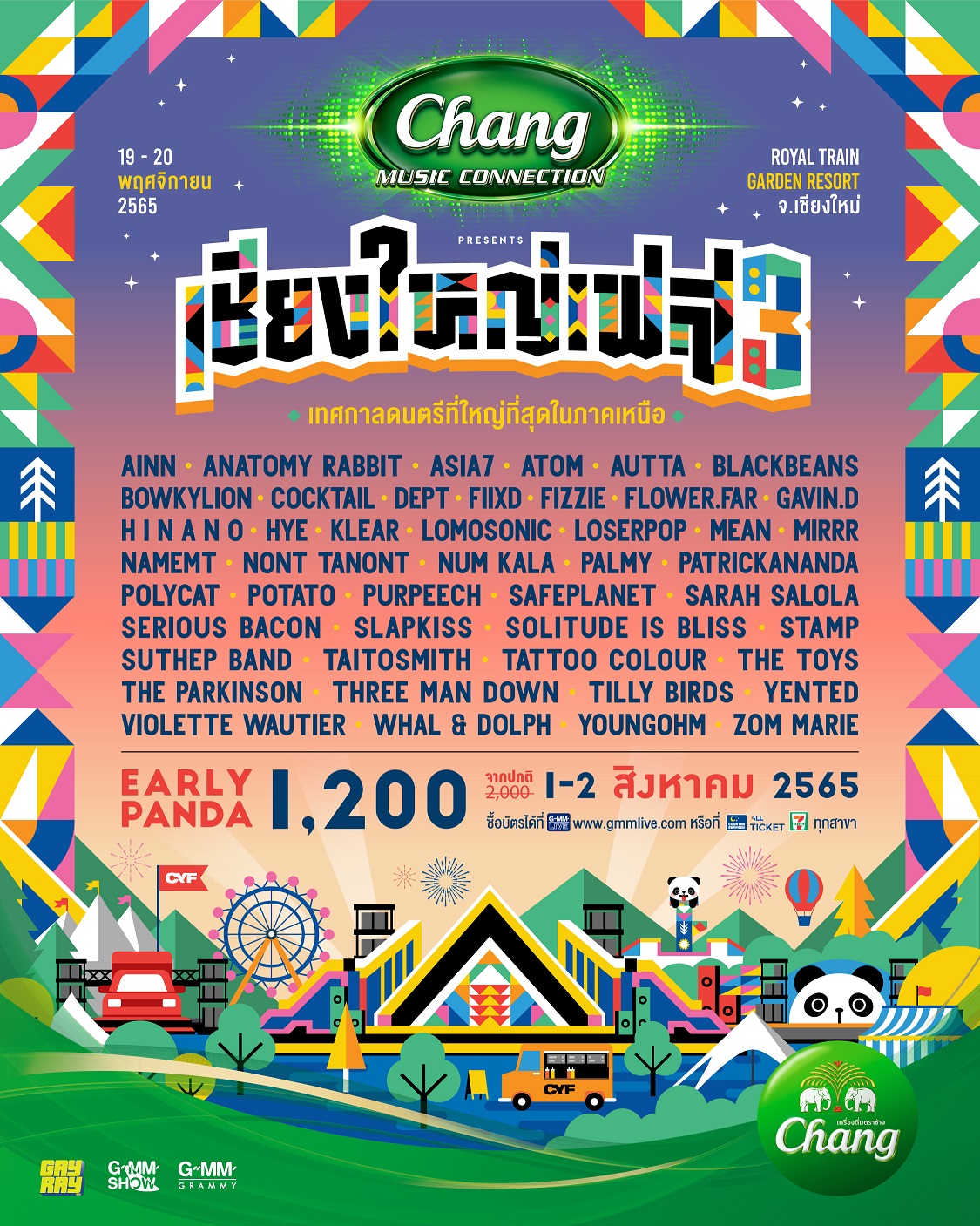 "GMM SHOW" presents Chang Music
Connection Presents Chiang Yai Fest 3
Get ready! The biggest music festival in the north, 'Chiang Yai Fest', which everyone has been waiting for, is coming back again!
Chang Music Connection Presents Chiang Yai Fest 3 is organised by the creative team "GAYRAY", the best concert and music festival organisers under the "GMM SHOW" agency. There will be two days of concerts across three stages on 19th and 20th November 2022 at Royal Train Garden Resort, Chiang Mai woth an area of 160 rai in the middle of the city.
There will be 46 artists performing over the course of the two days:
AINN / ANATOMY RABBIT / ASIA7 / ATOM / AUTTA / BLACKBEANS / BOWKYLION / COCKTAIL / DEPT / FIIXD / FIZZIE / FLOWER.FAR / GAVIN.D / H I N A N O / HYE / KLEAR / LOMOSONIC / LOSERPOP / MEAN / MIRRR / NAMEMT / NONT TANONT / NUM KALA / PALMY / PATRICKANANDA / POLYCAT / POTATO / PURPEECH / SAFEPLANET / SARAH SALOLA / SERIOUS BACON / SLAPKISS / SOLITUDE IS BLISS / STAMP / SUTHEP BAND / TAITOSMITH / TATTOO COLOUR / THE TOYS / THE PARKINSON / THREE MAN DOWN / TILLY BIRDS / YENTED / VIOLETTE WAUTIER / WHAL & DOLPH / YOUNGOHM / ZOM MARIE
Enjoy delicious foods at 'Kad Chiang Yai', a market that gathers famous stores from Bangkok and provinces across the north, including food trucks. Then there is the shopping at Baek Ka Din Market of numerous chic fashion brands.
EARLY PANDA tickets at a special price of 1,200 baht (normal price of 2,000 baht) from August 1, 2022.